Internet Explorer 12 has now become the most awaited version of IE. But what is more interesting about it is the list of features in Internet Explorer 12 that IE has published for the world to see. You too can see the features that may be included in the next version of IE. And this is known as the 'Internet Explorer Web Platform Status and Roadmap'. In other words – status.modern.ie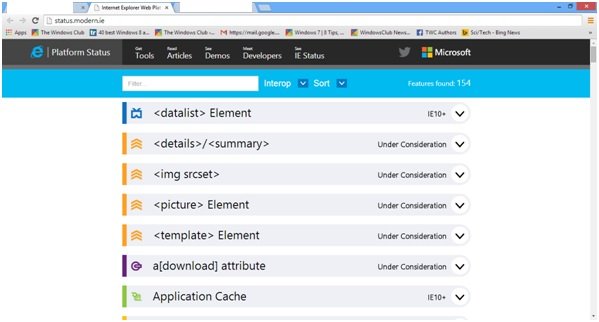 IE had earlier published an official statement that they want to build a deeper partnership with Web developers. Hence, beta of status.modern.ie was launched which had the list of features that are still in the development phase for the next version of IE, i.e. Internet Explorer 12. In addition to this, IE mentioned that,
"Developers can create new experiences to reach hundreds of millions of devices on people's desks, in their pockets and in their living rooms. Customers are only a click away. Join us at Build for an unprecedented learning opportunity for developers building on the Microsoft platform."
status.modern.ie
Status.modern.ie basically holds a list of features that may be included in Internet Explorer 12. We are calling it as 'may be' because some of the features are still under consideration. This link also includes explanations for each of these features as well.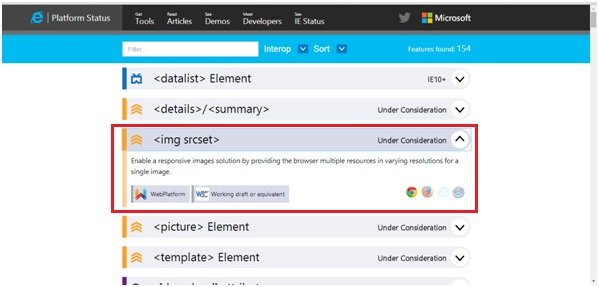 IE is happy with the response they have received from the web developers, along with their feedback on what could improve. In other words, it's a 'wish list' for Internet Explorer 12 from the web developers from across the globe.
With the launch of status.modern.ie, IE said,
"Today, after some of our team members host the Microsoft Astronaut's Welcome Reception at JSConf 2014, we are happy to announce that we are removing the beta tag from status.modern.ie! We've incorporated a number of improvements based on your feedback."
Some of the changes that are embedded in this final version of status.modern.ie are:
1)      Its open sourced
2)      The entire site is available on GitHub
3)      The IE Support data is exposed as a service
4)      There's a new 'Interop' menu that lets users to easily enter in their browser support interests to find features available in the Web platform
5)      Using HTML5 History and Angular routing, status.modern.IE enables users to deep link to a feature they want to share with others.
6)      Improved Mobile Support and Performance
Internet Explorer 12 certainly has a lot of stuff in store for the users. It will be interesting to see how many features that are mentioned on status.modern.ie, get incorporated within this new version of IE!