In a move that can be termed as showing lot of assurance to its shareholders and investors, Microsoft's CEO, Steve Ballmer is said to be working on restructuring Microsoft into a more "devices and services" company rather than just focusing on software alone.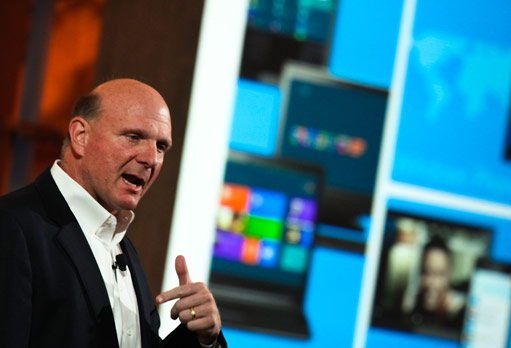 The restructuring move comes on the backdrop of major business changes that Microsoft has experienced over the last one year. The PC industry which generates major revenue for Microsoft has seen a major drop in sales of 14%. Compounding problems is Windows 8 operating system which did not perform well. Competitors like, Apple and Google have captured Tablet and Smartphone market respectively, and they are not letting Microsoft easy entry either. Though Microsoft has supported its vendors but still its market share cuts a sorry figure of less than 5% in the tablet and smartphone market.
Interestingly, Microsoft shares seem to have absorbed all bad news anticipating something great to happen in the near future. At the time of writing this post Microsoft Corporation shares were trading at $35.15 at NASDAQ, almost close to a five year high. Even though the PC market remains flat for Microsoft, Surface Tablet and license business have covered the shortfalls, something seen as a positive by shareholders as well. Seeing diversified business a reason for Microsoft's overall revenue growth, the restructuring move was already hinted by Steve Ballmer in annual shareholder letter last October in which he wrote:
"Over time, the full value of our software will be seen and felt in how people use devices and services at work and in their personal lives. This is a significant shift, both in what we do and how we see ourselves — as a devices and services company. It impacts how we run the company, how we develop new experiences, and how we take products to market for both consumers and businesses".
If speculations are to be believed then several current executives will have more prominent roles. One of them is Don Mattrick, the President of Microsoft's Interactive Entertainment Business and Xbox who is believed to be a front-runner for a greater role in the company. Tony Bates, head of Skype division is another contender who may find a bigger role in the company.
Traders and analysts are keenly watching Microsoft moves with Rick Sherlund, an analyst from Nomura Equity Research expressing that:
"There may be a shift in the wind upcoming for Microsoft, with shareholders potentially demanding a greater say in the direction of the company and how it might be run to drive a better return to shareholders".
So, with all eyes on Steve Ballmer let's wish Microsoft a smooth restructuring ride.