Microsoft disconnected its support to its most used OS, Windows XP on April 8th, 2014. Microsoft therefore decided to bid a farewell to this OS in an innovative (and touching as well) way. They decided to publish the story behind the popular Windows XP wallpaper, 'Bliss', which is also the most viewed image, through a YouTube video!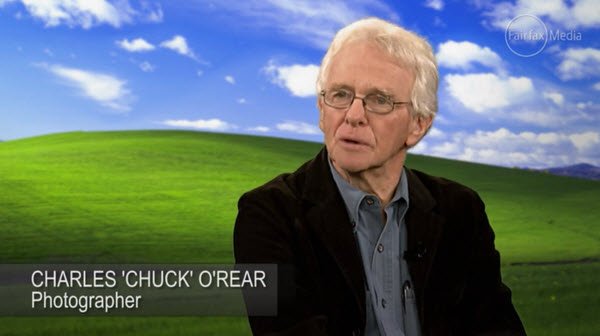 At the beginning of this video, the narrator mentions about 'Bliss', the famous image of lush green rolling hill, blue sky and white clouds which immediately became the identity of Windows XP wallpaper, ever since it got released in 2001. It is believed that the image is viewed by more than 1 billion people across the world. Through this video, Microsoft decided to uncover the face behind this image. And the photographer of this image is Charles O'Rear!
The video features the interview of this newly famed photographer. We call him 'newly famed' because hardly anyone knew about him until Microsoft decided to terminate the support for its OS, Windows XP. In the interview, Charles tells the viewers when and how he got this image, which is indeed an interesting tale. His interview answers the questions that the world is asking; like was there really a place out there; if so, who took the image and was it Photoshoped. Charles also shows us the camera and mentions the lens he used to photograph the view we see in the Windows XP wallpaper.
Charles also mentions how proud he used to feel whenever he saw his 'Bliss' featured as the Windows XP wallpaper on a screen that was the background in a grand event. At the end of this video, Charles mentions how his image of the Windows XP wallpaper has made a long lasting impression on people's mind. He says,
"I have a theory. Anybody now, from age 15 on, will remember this image for lifetime."
In addition, he says that at the age of 70, the same person will be able to recall this image as soon as he will see it. He may not be able to recall where exactly he saw it; but he will certainly remember it! Well said Charles! Everyone who is using Microsoft XP will never forget this image! At the end of the video, Microsoft thanks Charles for taking this image.
The Windows Club had already published an article about this Windows XP wallpaper, its immense popularity and most importantly, the photographer of this image. You can read about the interesting story behind the image and also Charles's thoughts here. Go here to see how this particular location looks today.