Less free space has just been one of the top reasons to complain about Microsoft Surface Pro. Regardless of the OS used, consumers feel the space advertised by Microsoft is not actually what they are getting in real. However, the truth is, Surface Pro has more free usable disk space than MacBook Pro.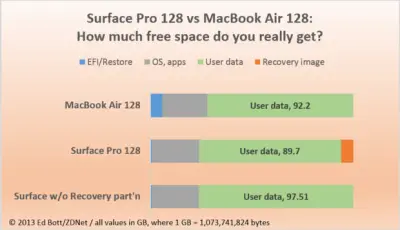 ZDNet confirmed this news. A direct comparison was made, between MacBook Air and Microsoft Surface Pro, both running x86 Intel processors, having similar amounts of RAM, coming in 128 GB models. Surface Pro may look like a tablet, but it can still be used as a full-strength PC.
In the comparison, it was proved that the Surface Pro too has similar amounts of free space as seen in MacBook Air after the partition factors are taken into account. The MacBook Air leaves approximately 93 GB of 128 GB available for use. That's around 78% while the Surface Pro offers 89.7 GB free (75.2%).
That said, you can still with a few tweaks that doesn't affect the system's capabilities in any way, can increase the amount of data storage space on the Surface Pro up to 97.5 GB, that's 81.8% of the advertised capacity. Recovery partition consumes a major portion of the Surface Pro so you can easily remove it to get more storage space.
What you can at least do is transfer the Surface's 7.8 GB recovery partition to a USB flash drive via Recovery Drive wizard and use it when needed. With this you not only free up some hard drive space but also get a backup necessary to recover essential parts in case there is an event of misfortune.
The MacBook Air's recovery partition cannot be removed, so you are out of luck for increasing the free space there. You are left with 92.2 GB of free space maximum which is certainly less than the Surface Pro to which the weak has been applied. The article comes in wake of the sharp criticism that Surface Pro received over its free space allotment.