Microsoft Research Team may well be all set to announce its third entry in the wearable market. After the Microsoft Fitness Band and Holo Lens, the research team is ready with its wearable scarf SWARM.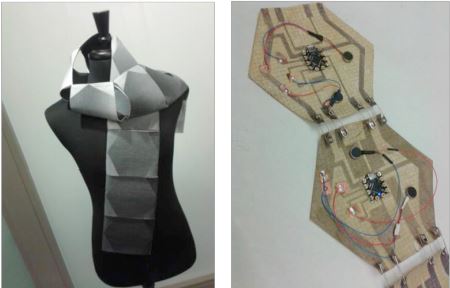 The SWARM (Sending Whether Affect Requires Meditation) is a high-tech wearable scarf designed by Microsoft Research Team to help a user regulate their mood swings. The scarf identifies and reacts according to your emotional state. The basic vision, behind creating this technological scarf is to help the people with disabilities to understand the emotional state of others and respond accordingly.
As mentioned by Michele A. Williams from the Research Team, the design of this technical scarf was inspired by the weighted vests used in autistic disorder therapy where the pressure helps autistic patients to focus and relieve the stress.
The technical scarf is made with a high-elastic fabric, the conductive copper taffeta and the modules of technology. These modules are then connected with the master controller tethered with the Smartphone app via Bluetooth app. The app sends the signals to the scarf according to the emotional state of the wearer as well as the people around. The SWARM app then command the scarf to vibrate or heat up according to the modules included.
The research team is still working on the features of this technical scarf and will soon be adding cooling modules to relieve stress. The Scarf is still in its initial stage of development and there is no official announcement about its availability in the market.
Read the complete report released by the Microsoft Research Team to know more about this technological scarf.