By now we suspect many of you have heard about the option to download and run Android apps on your Windows 11 PC via the Amazon Appstore. This feature was not available to users at launch, but it is now with the latest version of Windows 11. Now, you will need Windows 11 on your computer for this to work, as you already know. However, there are some other hardware requirements you may not have known about. We are going to lay them bare in this article.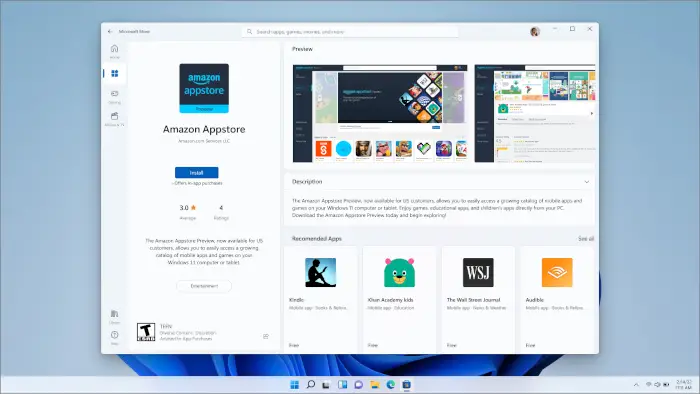 Bear in mind that it's possible to run these apps with lesser hardware, but you must then expect less than ideal performance. So, if that is something you can live with, then rock on and have a blast.
System requirements to install Amazon Appstore on Windows 11
RAM
8 GB (minimum)
16 GB (recommended)
Storage type
Solid State Drive (SSD)
Processor
Intel Core i3 8th Gen (minimum) or above

AMD Ryzen 3000 (minimum) or above

Qualcomm Snapdragon 8c (minimum) or above

Processor architecture
x64 or ARM64
Virtual Machine Platform
This setting needs to be enabled. For more info, go to Enable virtualization on Windows 11 PCs.
How to install the Amazon Appstore
When it comes down to installing the Amazon Appstore onto your Windows 11 device, please click here to get Amazon Appstore. Right away it will automatically open the Microsoft Store, and from there, simply hit the download button and wait for the task to complete.
You will need an Amazon account to use the Appstore, so if you have yet to acquire one, do so right now. And here's what you need to do if you see This app will not work on your device notification.