Skype for Business would soon be killed in favor of Microsoft Teams. Microsoft announced yesterday during its annual Ignite conference that Teams would be its primary teamwork software offering as it already has most of Skype's functionality inbuilt. The company though will not stop supporting Skype for Business immediately and instead will phase it out gradually.
Microsoft Teams to replace Skype for Business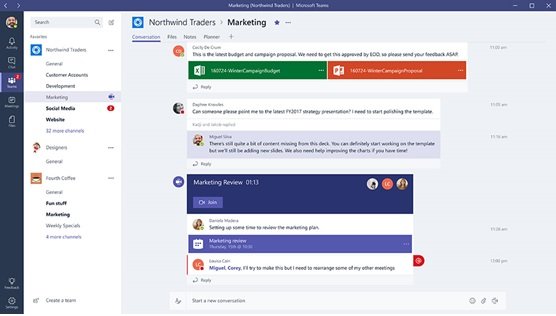 Microsoft Teams will replace Skype for Business as the company's Office 365 app for workplace communications like chatting and sharing documents.
Skype for Business was launched by Microsoft in April 2015, replacing Lync. Going by the success the communication app enjoyed, it is rather a premature end to its successful journey.
Confirming that the focus is now on Microsoft Teams, Lori Wright, general manager for Microsoft Teams and Skype product marketing, said,
Microsoft Teams is core to our vision for intelligent communications—bringing together conversations, meetings, files, Office apps, and third-party integrations—to provide a single hub for teamwork in Office 365. Teams is now being used by over 125,000 organizations across the world in just six months since its launch. Its strong momentum has proven that teamwork is essential to the way work gets done today.
What's new with Microsoft Teams
Microsoft announced Microsoft Teams in November 2016. It was a direct competitor to the ever-growing slack messaging app. After a long preview period, Teams was officially launched in March 2017 and has since been adopted by over 125,000 organizations across the World.
Microsoft teams will have comprehensive calling and meetings capabilities, along with data and insights from the Microsoft Graph. Teams is being employed on a new, modern Skype infrastructure for enterprise-grade voice and video communications. Microsoft is also looking to leverage the power of cloud-born architecture to enhance communication experience in Team.
Features such as scheduled meetings, Outlook calendar integration, meetings on mobile, guest access are already available on Microsoft Teams. Adding to the list, Microsoft will be releasing calling features in Teams—including inbound and outbound calls to PSTN numbers, hold, call transfer, and voicemail, very soon.
Microsoft has also introduced enhancements to Teams meetings, including audio conferencing (available in preview now)—enabling participants to join a Teams meeting by dialing a telephone number—and interoperability between Teams and Skype for Business, including universal presence, and messaging and calling interoperability.
Will you still miss Skype for Business?
The answer is No. But even if you are a core Skype for Business fan, Microsoft is still supporting Skype for Business in Office 365 and Skype for Business Server on-premises. For those who are not yet ready to move their PBX and advanced calling capabilities to the cloud, Microsoft will release a new version of Skype for Business Server targeted for the second half of the calendar year 2018.