What can be termed as extremely surprising, Microsoft's web portal "TechNet" is offering Google Chrome and Mozilla Firefox browsers as downloads, in its Gallery. What is even more astonishing, is the fact that TechNet Gallery is projecting both its competitor browsers as a good alternative to Internet Explorer.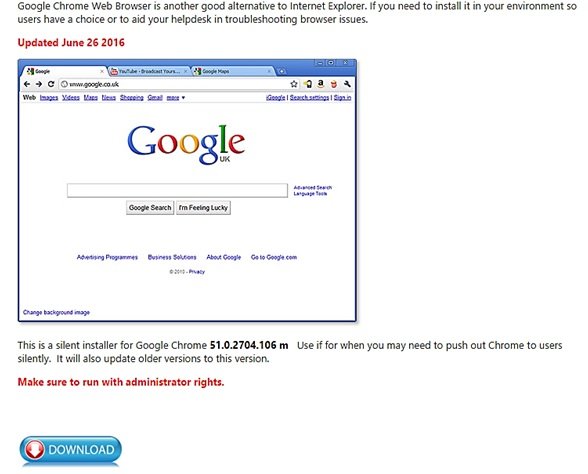 Download Chrome & Firefox from Microsoft TechNet
The statement at TechNet gallery for both of IE competitor reads,
"Google Chrome Web Browser is another good alternative to Internet Explorer. If you need to install it in your environment so users have a choice or to aid your helpdesk in troubleshooting browser issues".

"Mozilla Firefox Web Browser is a good alternative to Internet Explorer. We install it in our environment so users have a choice and so support have a choice to troubleshoot browser issues."
Currently, the TechNet Gallery mentions Chrome 51.0.2704.106 and Firefox 48.0 as versions suitable to replace Internet Explorer.
Recently Microsoft openly criticized Google Chrome for consuming more battery than other browsers on Windows-based PCs. The company demonstrated a test on Google Chrome, Mozilla Firefox, and its own Microsoft Edge. The result of the test showed that battery life on a PC running Microsoft Edge lasts 70% longer than Google Chrome, 43% longer than Mozilla Firefox, and 17% longer than Opera.
Another way of looking above is a thought that Microsoft considers the new Edge browser a tad above the competition and looks at Chrome and Firefox in the same league of old Internet Explorer. However, this reason also doesn't justifies the rationale as Microsoft Edge has not really been accepted well by the Windows 10 users. As per NetMarketShare May 2016 statistics, Microsoft's Edge, occupies just 5% share in worldwide browser market, dominated by Google Chrome at 46% – thus, barely posing a threat.
While we are still pondering on why TechNet Gallery is offering Chrome and Firefox as downloads, we agree to the fact that both these IE competitors are really good at use.
Download the silent installers from TechNet Gallery: Chrome | Firefox.