Windows 8 users need not install a 3rd party antivirus software since Windows Defender in Windows 8 is actually Microsoft Security Essentials. But still many prefer to install some good free antivirus software like avast!
Windows 8 users will be happy to learn that avast! is now completely compatible with Windows 8. After being tested and passing the requirements, it is now available in the Windows Store.
Said Ondřej Vlček, Chief Technology Officer of Avast:
Having avast! in the Windows store provides Windows users with a certified PC security solution that is far better than what they would have with the pre-bundled Windows Defender antivirus previously known as Microsoft Security Essentials.
Avast has not lost the opportunity to compare its free offering against Windows Defender. It claims that avast! offers much better Zero-day protection as compared to Windows Defender.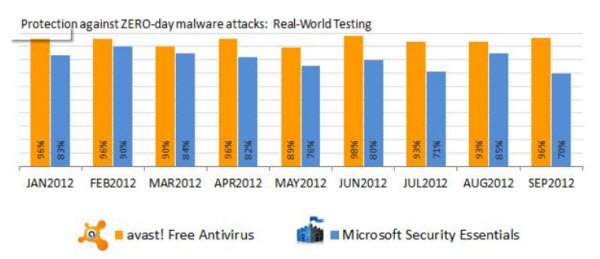 Performance tests by AV-Test, a respected antivirus software testing lab, show that avast! Free Antivirus has notably surpassed that of MSE in all 2012 monthly Real-World tests. While it does a good job on common widespread malware, as do most good brands, MSE lacks the cutting edge protection against new unknown "zero-day" attacks of which avast! Free Antivirus excels in detecting.
With this development, avast! now gets the right to display the "Windows 8 Compatible" logo – the first free third-party antivirus software to get this recognition!