As the world fought against the pandemic, cybercriminals tried everything they could to keep cashing in on the panic. Hackers and threat actors not only put the stressful lockdown situation to their advantage, but they also managed to evolve the scope of their attacks to cause data theft prior to encryption, extending ransomware attacks to data breaches and leveraging the pandemic as an entry mechanism into worldwide systems, among other things.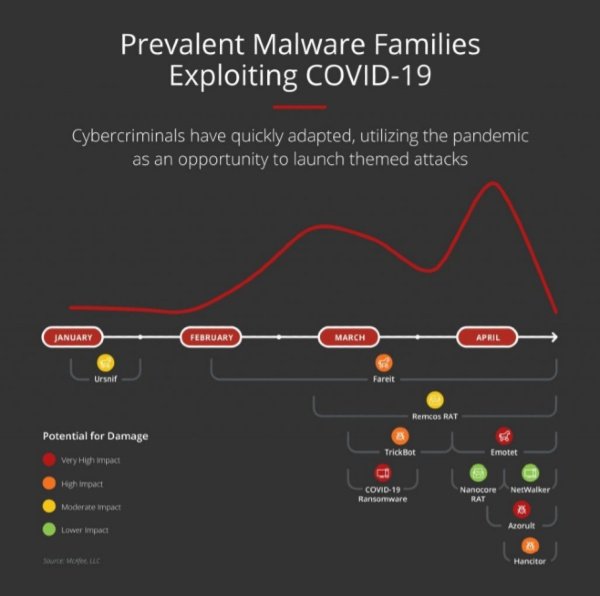 Rise in phishing, malware campaigns
A new study saw an average of 375 new threats per minute throughout the quarter ending March 2020. Security researchers saw an influx of coronavirus-themed malicious phishing and malware campaigns.
Researchers also observed 1902 percent increase in the number of malware campaigns. For example, PowerShell malware, in particular, grew 688 percent during Q1 2020, which saw the maximum number of attacks targeting the public sector, individuals, education and manufacturing.
In the Q1 2020, c47 percent of all publicly disclosed security attacks and related incidents involved the United States in some ways or the other.
"Thus far, the dominant themes of the 2020 threat landscape have been cybercriminal's quick adaptation to exploit the pandemic and the considerable impact cyberattacks have had," McAfee said.
Attackers used testing, treatments, cures, and remote work topics to lure targets into clicking on a malicious link, download a file, or view a PDF, researchers have confirmed.
In Q1 2020, security researchers also saw data breaches emerging as the new ransomware attack.
"No longer can we call these attacks just ransomware incidents. When actors have access to the network and steal the data prior to encrypting it, threatening to leak if you don't pay, that is a data breach."
Whereas total ransomware increased 32 percent over the past four quarters, new ransomware declined 12 percent in the first quarter this year.
Recently, a deadly Try2Cry ransomware has triggered a warning in India as one of the state governments in the country put all its departments on alert. Try2Cry ransomware primarily infects Windows desktops and laptops.