New lesser-known apps and remote work and communication tools increase the risk of coronavirus COVID-19 related scams and frauds. Since the COVID-19 outbreak, people around the world continue to use these apps to stay connected with their colleagues during the work-from-home transition.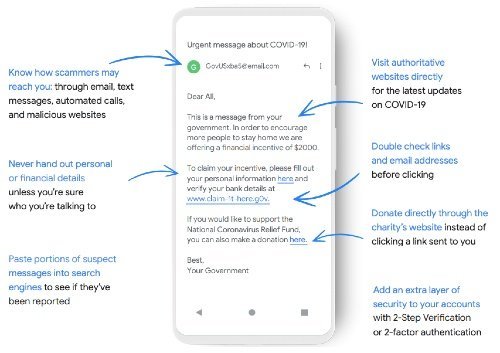 Google saw 240 million COVID-related spam
As a result, the consumption of such tools has significantly gone up. But turning to unfamiliar tools increases the likelihood of online security risks. Meanwhile, Google has detected new COVID-19 scams, phishing campaigns, fake charities, bogus healthcare notices, among other frauds.
Malware and ransomware also pose a growing risk of cyberattacks, and large IT companies like Cognizant are falling prey to such attacks. In his recent blog post, Google's Senior Director for Account Security, Identity, and Abuse Mark Risher wrote:
"Our systems have also spotted malware-laden sites that pose as sign-in pages for popular social media accounts, health organizations, and even official coronavirus maps."
Cyberattacks caused by a growing number of coronavirus-themed malware and phishing campaigns have become highly common these days.
18 million daily malware and phishing attempts!
According to Google, 18 million daily malware and phishing attempts related to COVID-19 took place over the last two weeks. However, the company has also witnessed over 240 million coronavirus-related spam messages.
As per the Federal Trade Commission (FTC) data, COVID-related scams and frauds have cost Americans more than $13 million in losses. Most of the complaints were about fraudulent activities, fake charity, and refund-related fraud.
Meanwhile, websites in the Food and Beverage industry experience more attacks than others since the outbreak.
Palo Alto Networks saw a 656 percent increase in the average daily Coronavirus-related domain name registrations from February to March:
"In this timeframe, we witness a 569% growth in malicious registrations, including malware and phishing; and a 788% growth in "high-risk" registrations, including scams, unauthorized coin mining, and domains that have evidence of association with malicious URLs within the domain or utilization of bulletproof hosting."
Google has circulated some basic online security tips as follows:
Know how scammers may reach you
Never hand out persona or financial details
Post portions of suspect messages into search engines
Visit authoritative websites directly
Doube check links and email addresses
Donate directly through the charity's website
Add an extra layer of security to your accounts
Recently, we compiled a detailed list of coronavirus COVID-19 scams, frauds, and cybersecurity threats you need to be aware of.