There's no doubt the on-going COVID-19 pandemic is affecting all industries across the globe. We've seen numerous coronavirus scams taking place all across, causing workplace and industry-level disruptions, among other things. Since a lot of companies have switched to working remotely due to lockdown, many businesses and industries continue to experience a surge in the number of cyberattacks.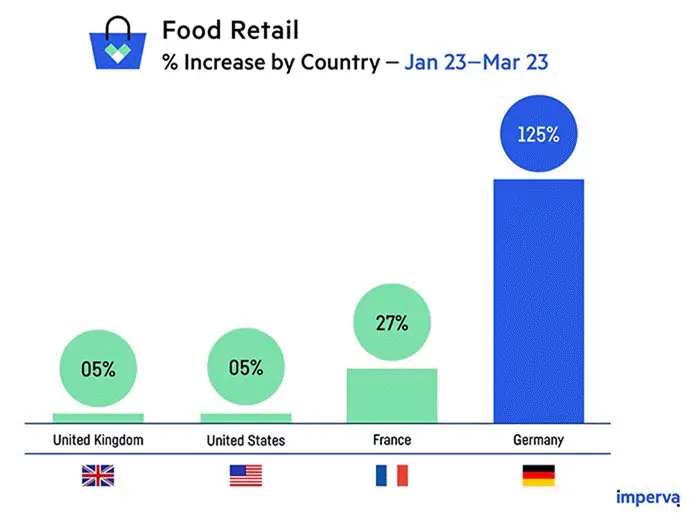 Food retail sector most-impacted by coronavirus scams
Security researchers at Imperva reveal that websites in the Food and Beverage industry experience more attacks than others since the outbreak. Meanwhile, attacks on the Food and Beverage industry in Germany have increased dramatically. Researchers also observe a growing number of attacks on the financial industry around the world, with attackers targeting specific countries like Italy, the UK, and Spain.
A large number of coronavirus cases and fatalities have emerged across European countries. So, hackers attacking these countries to a great extent can't just be a coincidence. Imperva says:
"Our researchers have found that while some sectors are experiencing a dip in the number of attacks, on the whole they remain consistent."
According to Imperva Cyber Threat Index Report, some business sectors such as gaming, food and beverages, and financial services have experienced a significant uptick in attacks over the past few months. Gaming websites have seen a 7 percent increase whereas attacks on food and beverage websites and financial services are up 6 percent and 3 percent, respectively.
As many people continue to rely heavily on food delivery services, food retail and e-commerce have emerged as one of the most-impacted industries during the pandemic. Furthermore, this has resulted in a massive 70 percent uptick in online traffic to food-related e-commerce sites.
"While the sector is riding the wave of the current health crisis with a massive boost in sales, even the biggest grocery retailers are struggling to meet demand."
Since January, the number of attacks targeting food retail around the world sees a 6 percent increase. Germany, in particular, stands out for facing a 125 percent surge in attacks on the country's food retail sector since the coronavirus outbreak. As far as non-essential retail is concerned, countries such as Belgium and the United States show sharp spikes in the number of attacks.
Countries with the most number of attacks on financial services are China and Germany. While attacks in China are up 66 percent, attacks in Germany are up 51 percent, followed by Italy. Give the fact that hackers continue to use the COVID-19 outbreak to their advantage, you must ensure safety and privacy on the Internet.