Having just launched Office 365 globally, Microsoft is making moves to convince users that this latest version does help them increase their productivity and save considerable amount of time in their daily tasks. Branding it as Time to 365, Microsoft shares real experiences of consumers who find Office 365 easy to use with tips like the ability to retrieve Office content from almost anywhere etc. underlining the part that it is good to move over to the all-new Office.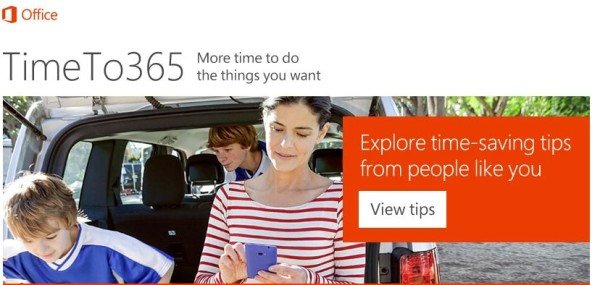 Among the various tips and experiences shared on the homepage, a few are really convincing enough for users that Office 365 does make things happen faster and seamlessly:
A school student can easily save his/her homework and later access the same from anywhere/any device by simply launching the Office app and saving the file to SkyDrive (default).
One doesn't need to have artistic cells within them to create a good design. Even a non-designer can come up with great party cards, pamphlets or brochures thanks to the huge collection of in-built templates.
 For business professionals, OneNote comes to their rescue when they need to sketch their ideas and later save it for future references. The sketch automatically gets synced up with various other owner devices thus allowing the user to access it later from almost anywhere. Also, it helps in saving a lot of paper.
Many other tips and experiences shared on the homepage are worth looking at, which can redefine the way in which a present user can interact with his tasks and responsibilities. Current Office 365 users can also share their tips to the rest of the world and in other words, say 'Time To 365'.
Microsoft also gives users a chance to enter the TimeTo365 Sweepstakes, a chance to win a year's worth of dream services that will help consumers find more time to do the things they want! One grand prize winner will get their choice of a year of services from a personal chef, a car service, home cleanin g services or a session with an interior designer and some cash to be used to "techorate" the home.
Head over to the TimeTo365 home page for more info.