Folks at Microsoft Teams have announced some new features that claim to dramatically improve the quality and engagement of one-to-one interactions, courtesy of Microsoft's on-going work in the field of Virtual Reality (VR), Artificial Intelligence (AI), and productivity research.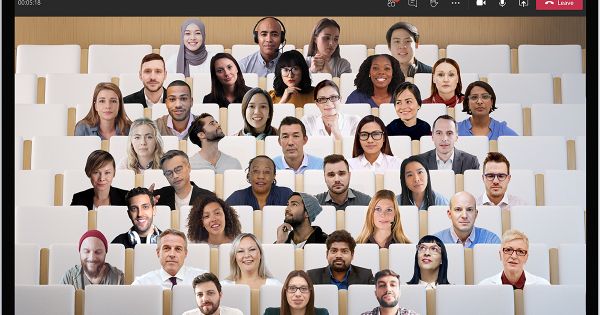 Microsoft Teams gets Together Mode
Thanks to these features, Microsoft Teams is looking to provide Enterprise and Education customers with something it calls Together mode. It's a feature, which according to Microsoft, instills a sense of connectivity, togetherness, and productivity in users.
Let's see what this new 'Together mode' in Microsoft Teams is all about, shall we?
According to Microsoft, changes to people's work lifestyle in the wake of the pandemic have started to show some adverse effects on people's health. Online meetings are causing people to experience more fatigue. Many people also feel less connected to their co-workers, something Microsoft is now looking to address thanks to 'Together Mode.'
This will create a new Teams meeting experience using shared background using AI segmentation technology. This way, participants will feel like they are sitting in the same room with everyone else in the meeting or class. In his recent blog post, said Jared Spataro, Corporate Vice President for Microsoft 365 wrote:
"Together mode makes meetings more engaging by helping you focus on other people's faces and body language and making it easier to pick up on the non-verbal cues that are so important to human interaction."
Together Mode in Microsoft Teams will be generally available next month. Microsoft has started rolling it out with Auditorium View to select Teams customers. Microsoft says it will come up with more views to Together mode in the future.
"It's great for meetings in which multiple people will speak, such as brainstorms or roundtable discussions, because it makes it easier for participants to understand who is talking," Spataro added.
Last month, Microsoft Teams announced Dynamic View to let users see up to 49 people in a meeting at the same time. Large Gallery view and virtual breakout rooms will roll out next month, Microsoft has confirmed.
Microsoft has also announced the arrival of several new and upcoming features in Teams such as Reflect messaging extension, Live reactions, Chat bubbles, Speaker attribution for live captions and transcripts, Suggested replies, Cortana in Teams, among other features.