Virtual reality and Augmented Reality controllers have taken Haptic technology to new heights. Simple haptic devices available in the form of common game controllers, joysticks, and steering wheels have found much acceptance in the digital age. Besides, the easy manipulation of these tools via a combination of visual stimuli and haptic sensation renders a compelling experience. A new kind of haptic controller called TOuch Rigid Controller (TORC) promises to enhance this experience furthermore.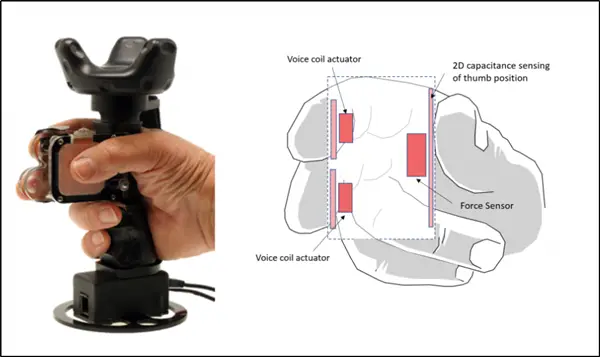 TOuch Rigid Controller (TORC)
Physically, TOuch Rigid Controller (TORC) is composed of a rigid shell that features no visible moving parts. Even then, it can deliver rich haptic feedback and allows a high level of dexterity. It has been developed by the joint efforts of researchers at Microsoft Research Redmond and research intern at KAIST.
TORC's minimal design enables simple and robust operation and it can be incorporated into a variety of controllers and everyday devices, from a stylus to a game controller (see Figure 6.) It enables sensing and rendering rich haptic manipulation in VR and AR. The TORC project team hopes that it will motivate the research and industrial community to pursue future work on the design of VR/AR controllers, mentions a blog post..
The compact device that fits in the palm of your hand enables squeezing of virtual objects as well as manipulate them in-hand, without switching to multifunctional way. It has been particularly designed to support gripping virtual objects using the thumb and two fingers.
If further evaluations prove that using TORC, participants could manipulate virtual objects more precisely, we can see a breakthrough. Moreover, it could be considered an ultimate VR frontier in which users will finally be able to grab any object within VR and AR environments.
For more information, visit the Microsoft Research Blog.