Tor, known for its anonymizing tool with the same name and Tor Browser, has launched a new search engine. The search engine is called TorSearch, and it is all about letting people find for things without worrying about getting tracked. Unlike any of the other search engines, Google, Bing  and Yahoo, the search engine keeps all your interaction anonymous.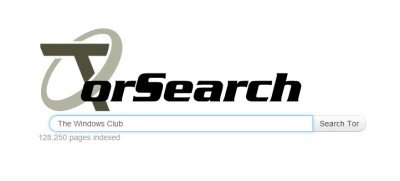 Hopping over million users, Tor is a highly trust worthy tool which ensures anonymity. The founder of this TorSearch Chris MacNaughton said,
"I want to be the Google of Tor.". "Tor is an anonymizing network — for any traffic passing over it, you can't correlate the start and end points, and websites can't see who you are.", he added.
How TorSearch works
When you ping a request, a connection between you and the source website server is established. Tor, on the other hand introduces proxy servers and relay services, which reroute your request through it. This way it makes it hard for anyone, especially, you know who, to intercept the packet (data).
Interestingly, TorSearch too relies on Google spiders to crawl and index the web-pages. The founder explained,
"I'm spidering a hidden wiki, and it links to other hidden services, and they each link out to a few more."
At the time of writing this post, about 128,250 pages had already been indexed by the search engine.
The search engine has a plain look which definitely is inspired from Google's. However, there are no separate sections for images, or videos, or blogs just yet.  The "Submit a Domain" button at the right bottom can be used to submit your website's URL, this will help TorSearch add it to their indexing library.
Ever since the NSA stories surfaced, Tor has become extremely popular, and the founder says, there has been a significant spike in the number of users who use Tor. Will TorSearch be able to become the "darknet Google", that we will leave to you to tell.
The URL of the search engine is weird! You can check it out here.