The Telecom Regulatory Authority of India website has allegedly been hacked after it made the email addresses of people public who have sent their feedback in response to the issue of Net Neutrality in India. As we write, TRAI officials have denied about hacking and instead said that there are technical faults that have bought the website down.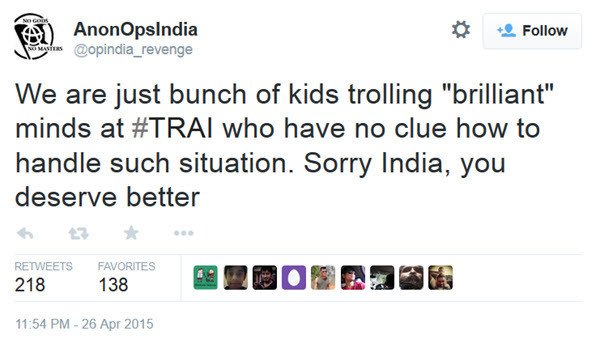 A group that names itself, AnonOpsIndia, announced on Twitter that it has taken down TRAI website, trai.gov.in, via a DDoS (distributed denial of service) attack.
The hacking occurred after TRAI revealed the email address of more than 1 million people who have submitted their feedback on the issue of net neutrality. The attackers criticized the step taken by TRAI of revealing respondent's email and potentially exposing them to spammers and other threats.
What can be termed as a potential breach of privacy, earlier in the day, TRAI published a list of email addresses of those who registered their opinion about net neutrality on the official website of TRAI.  This highly unacceptable move by TRAI is being criticized all across India and the world. This action of TRAI not only violated the privacy clause of internet; but it also exposed email IDs of millions of Indians to the infinite spammers worldwide.

Even though there was a need to show the legitimacy of the emails that were received for feedback, TRAI could have been sincere enough to blur out email ids or put just the first name public. Apart from spammers/advertisers what is the guarantee that Telecom operators will not target these respondents who have spoken against net neutrality.
The list has email IDs categorized based on the date it received the responses. The data mentions all the email IDs from which a response was sent to TRAI from the date March 27th till the date April 24th. Surprisingly, the data doesn't list any email IDs for the dates April 14 and 15. Worse part is, the document in which TRAI published the list of email IDs, can be searched via keywords.
While we would appreciate transparency, this is certainly a huge breach of privacy. Bad move, TRAI!.
Your views?