It is not simply about money. It is about more money by hidden means. What is Net Neutrality in the first place, what is the state of Net Neutrality in India and why is there so much tension among Internet users related to net neutrality? The answer is that net neutrality allows you to browse any website at any time without manipulating the bandwidth to slow it down or to make it faster than other websites.
Net Neutrality in India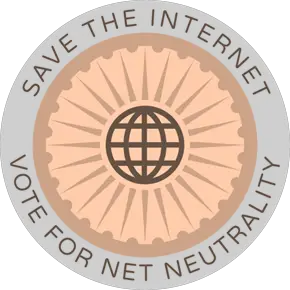 Why would ISPs and cellular companies slow down certain websites?
It is like this: Suppose you want to watch a movie on DailyMotion and the movie is available on YouTube also. You start the movie on DailyMotion but the speed is pathetic. It has been deliberately slowed down so that you cannot watch the movie without buffering every minute. Eventually, you are so frustrated that you go for YouTube that runs the movie without any glitches. So does that mean YouTube is better than DailyMotion?
Both provide the content at same FPS and resolutions. So how would YouTube be better than DailyMotion? It is just that YouTube paid the cellular operators or ISPs a sum of money to put them on the fast lane. And DailyMotion did not. So they slowed down DailyMotion to an extent that you browse away from it. This, they do to earn some extra money. This has been experienced in many countries all over all the world and there has been a fight for net neutrality, which the public has won.
What is the state of Net Neutrality in India?
The war against Net Neutrality has just begun. Airtel and Internet.org are two entities that are a threat to net neutrality. Airtel is offering AirTel Zero plan using which, you can use certain apps for free. In the same way, Internet.org offers Facebook and a couple of other website free of cost. Flipkart has however chosen to walk out of Airtel Zero to support Net Neutrality.
On the face of it, it looks like a good plan because you get free apps. But then, to make these apps available free for you, ISPs like Airtel and Reliance charge you more for data packages, so that you can really enjoy them. This is a clever plan to make more money by offering friendly packages that seem innocent.
When Internet users came to know about these plans, and the hidden costs involved therein, they started protesting.
The app developers, for example, pay to the telecom companies to let users use the apps without incurring data charges for their apps or websites. They then transfer these costs to the users in some way or the other, in order to recover their loss. It could be by way of displaying advertisements, like Facebook does, or by prompting the user to upgrade to enjoy the app completely.
Telecom companies say they are being cheated out of their revenue
Telecom companies say they are being cheated out of their revenue by messaging and calling apps. At the surface, it may look genuine. If we use WhatsApp to send messages, no one will use the SMS services and it is a loss to the telecom carrier. But then, doesn't sending messages over WhatsApp or making a call over Skype incur data charges?
Net Neutrality in India is under threat going by what Airtel Zero is promising and by Facebook's, Internet.org. If these two are successful, there will be many more who follow, making it hard for us to browse the Internet freely. They (the ISPs) may come up with different packs for different websites and ask us to cough up more money if we want to access the websites.
Is this fair? Should it happen?
The answer is a big NO. Internet should be fair for all. There is no way we can allow telecom operators to rule the Internet and control our browsing.
What can you do to save the Internet? Log in to SaveTheInternet.org and send a mail to The Telecom Regulation Authority of India so that they know you are against ISPs manipulating Internet access and speeds. It hardly takes a minute or two to send the filled in questionnaire available at the site.
Over 10 million emails have already been sent to the TRAI. If need be, people will take to the streets to prevent net neutrality in India from being manipulated.
What is the future of net neutrality in India?
It should be preserved at any cost. People Power has stopped many countries from breaking net neutrality. In India too, the plans to beat net neutrality should bite the dust.