In a dramatic move, India's popular e-commerce company, Flipkart,  has stepped back from the partnership with Indian telecom major – Airtel, on a controversial Airtel Zero platform. Flipkart today issued an official statement to NextBigWhat stating it is walking away from the existing agreement with Airtel's Zero platform.  Airtel recently opened up a platform called Airtel Zero , which allowed selected partners to get a preferential treatment – where in,  customers can access partner apps present on Airtel Zero without any data charges.
Flipkart walks out of Airtel Zero Platform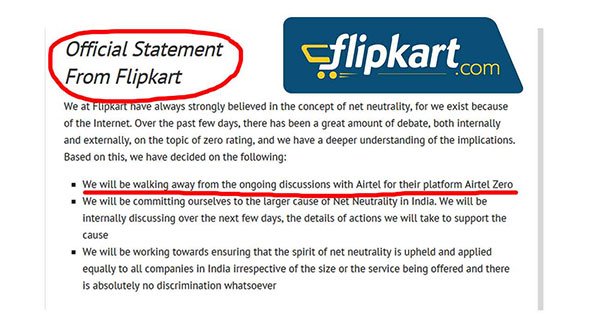 The partnership with Flipkart and Airtel Zero spurred a negative reaction across the Internet as it was against the principles of Net neutrality. Various campaigns like SaveTheInternet emerged where it asked every Internet user to support the Net neutrality by sending an email to TRAI (Telecom Regulatory Authority of India).
A community on Reddit, grouped together to boycott using Flipkart and encouraged users to provide a rating of 1 star to their apps.   Flipkart didn't want to lose its brand image in the massive movement against Airtel's Zero platform and finally released a press statement.
Clarifying about stepping away from Airtel Zero, in one of its official statement, Flipkart said,
We at Flipkart have always strongly believed in the concept of net neutrality, for we exist because of the Internet. Over the past few days, there has been a great amount of debate, both internally and externally, on the topic of zero rating, and we have a deeper understanding of the implications.
Based on this, we have decided on the following:
We will be walking away from the ongoing discussions with Airtel for their platform Airtel Zero
We will be committing ourselves to the larger cause of Net Neutrality in India. We will be internally discussing over the next few days, the details of actions we will take to support the cause. We will be working towards ensuring that the spirit of net neutrality is upheld and applied equally to all companies in India irrespective of the size or the service being offered and there is absolutely no discrimination whatsoever
A small win for Net Neutrality. What do you think?