Microsoft has launched a TwinsOrNot app for Windows Phone and Windows 10 Mobile devices. We're not sure of the long-term here, but it's a bit fun to use.
The software giant has been investing a lot in facial recognition over the past couple of years. The company is working on a technology that will allow Windows 10 computer users to log-in to their system with just an image of their face. Then there's the guess your age project, which was launched on HowOld.net.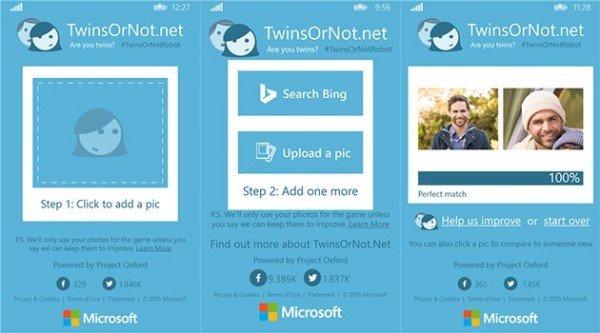 TwinsOrNot app for Windows Phone
The company also came up with TwinsOrNot.net , a website that tries to tell if you look the same as someone else, namely a celebrity. I've tested myself to see if I am as good looking as Will Smith, but unfortunately, the results didn't turn out as I'd hope.
As it stands right now, folks have no reason to visit the TwinsOrNot.net website if they own a Windows Phone or Windows 10 Mobile device. Microsoft has created an app and it works in a similar manner to the website.
How it works?
Download the app from the Windows Store, then follow the simple instructions to get things going. It should take less than a minute, depending on the speed of your phone and also the speed of your Internet service. The Internet is needed to upload your photo to Microsoft.
Microsoft promises that it will only use your image for the game, but there is an option to allow the software giant to keep the image for future improvements of the app.
After using for several minutes, the fun aspect was lost pretty quickly, and as such, we deleted the app. We're guessing Microsoft is using these tools to test its facial recognition technology. And since there are several available, we wouldn't be too surprised if the software giant releases another.
The app is available right now in the Windows Store for free.