Microsoft has come up with a website that helps you find out if you have any secret twins. Both the earlier launched Microsoft Age Detector website and this Twin Detector website, TwinsOrNot are attempts to showcase the capabilities of Windows Azure.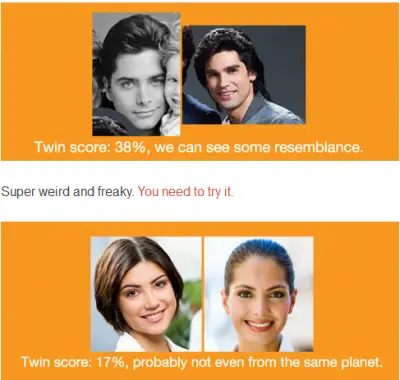 Microsoft TwinsOrNot.net website
The age detector website allowed you to upload images and based on certain calculations it presented the age of the person in photographs. Likewise, the Twin Detector website allows you to upload two images containing faces of two individuals so that you can find out the percentage of similarity in both faces. The algorithms behind the twin detector website is quite simple – Machine Learning Technology. The developer of this Microsoft website says that it took just four hours for him to build the website that is hosted on Windows Azure.
Matt Velloso works with Microsoft and has created plenty of websites to tell people how easy and fast it is to actually create and publish a website with Windows Azure. Once you have the concept, you create an account with Microsoft Azure and get started. You have all the tools required to conceptualize, code and publish the websites in a way you want. There is no barrier on the programming languages. You can choose your favorite language and start publishing quickly.
Find out your twin
The website that detects similarity between two images is available at TwinsOrNot.net. You can visit the website, upload two images and see the results for yourself. The site will compare the two faces in the images uploaded and tell you how you match with the other person. That is, it will tell – for example – your face matches with xyz up to 30 percent. In some cases, it also says that the two people may not even belong to the same planet.
It is fun to try it out. As said earlier, all these fun websites are an attempt to promote Windows Azure by showing you how easy it is to use the service, especially for coding and offering other services. You have a platform that can be used for different purposes. Website creation is just one of them.
TwinsOrNot app for Windows Phone is also available now.