Microsoft Garage, a free flow creative activity center has been abuzz with lots of fresh innovative ideas which have already been shaped up as new apps. The Garage is Microsoft idea of nurturing out of the box ideas and thud allowing the employees to do what they like the most.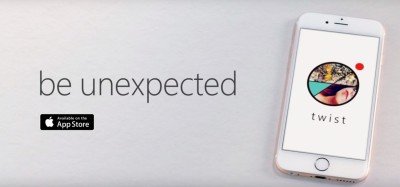 Simple yet thought provoking applications have been born out of the Microsoft-Garage wedlock and it includes Mouse without borders, BusAlarm, Codeflow, Snap To Pin, Snip, Picturesque Lock Sreen, SquadWatch, Send, Next Screen app for Android, etc. The latest application to join the list is Twist, an app that lets you converse with people through photographs and images.
Twist is all set to become more of a story telling application that will consist of a split screen, one wherein you can post the pictures and another wherein the discussion on the picture can be spun off.
Jennifer Shen, principal program manager lead said –
"When we were designing Twist, we observed that many of the digital ways people communicate today don't allow for rich, expressive exchanges," She further added that "Many messaging applications are adding the functionality to make their experiences feel richer such as stickers, emojis and animated gifs. That's how we landed on a photo canvas as a rich medium, as a way you can really share your current situation, funny moments, spark creativity, etc."
Additionally, Twist also keeps history of the group chat so that it's easy for you catch up on the missed actions. The possibilities are innumerable, you can start off a picture association game and create creative pictures. The images can be added from camera roll and it can also be pulled from the Bing.
Twist is more of a photo mashup app and it is somewhat in lines with Instagram and Whisper. As of now the Twist will only be available on iOS.