Twitter, the micro blogging site had added "inline animated GIF support" last month and now has come up with a new feature – you can simply hover over a handle name to view the profile related to that handle. Earlier, to view information about a handle, you had to click it. In the world of Twitter, a handle represents a user. So if you are called "PowercutIN" on Twitter, your handle is "@PowercutIN".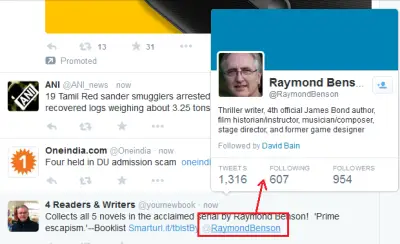 The information displayed while hovering over a Twitter handle is short and shows only the bio in short, number of people the user is following, number of people who are following the user, and total number of tweets made by the user. The posts made by Twitter users are called tweets and Twitter shows total number of Tweets posted by a user on his or her profile. The mini profile also has a Follow/Unfollow button so that you can follow or unfollow the user right there.
While it seems a good feature because you won't have to leave your timeline for viewing the profile of a Twitter user, it can be frustrating for some. There are tweets on Twitter where users include a large number of handles. That is, a follow recommendation or a tweet (post) addressing a large number of users (such as thanking users for following or retweeting) will contain too many handles. This is where it becomes frustrating because when you try to move over such tweets by scrolling, it pops up profile information every now and then. This is kind of intrusive and irritating when your timeline has tweets that contain many handles (and it often happens).
Meanwhile, Jack Dorsey asserted that he is only an "interim CEO" and may not stay for long – after Dick Costolo left Twitter supposedly owing to bad performance of the social network. Whispers around the Internet say that Costolo was made to step down and Jack may have to stay for a long time before a proper agreement is reached concerning the founders of Twitter.