If you are Twitter users, you will probably have noticed that the social networking site has added the Follow button in the Who To Follow box, in the left side panel. This is how the Who To Follow box looks now.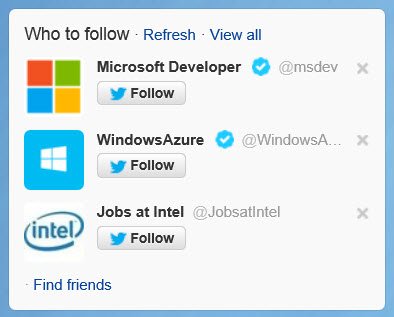 This small change will now let users follow people right from the box on your Twitter profile page.
Twitter via the Who To Follow box, suggests accounts for you to follow, based on who you follow, your tweets and more. If you like the suggestions, you can opt to follow them. If you are sure you do not want to follow the person, you can use the 'x; button to remove the suggestion. In the latter case, the same account will not be recommended to you again.
If you do not like or use the Who To Follow box, if you are a Chrome user, you can remove it using this Chrome extension.