The Twitter app for Windows 8 has just been updated. Apart from bug fixes, it has some improvements too such as it now supports multiple accounts and lists. This was a much requested feature and users must now be glad to find that they have been included in the updated version.
For adding a new account, right-click (or swipe from top or bottom on touch devices) to get app commands and click on the People icon on top right . You'll get the 'Plus' button on top right , click on it to add new account. Also you can see 'x' button along with already added account to delete it.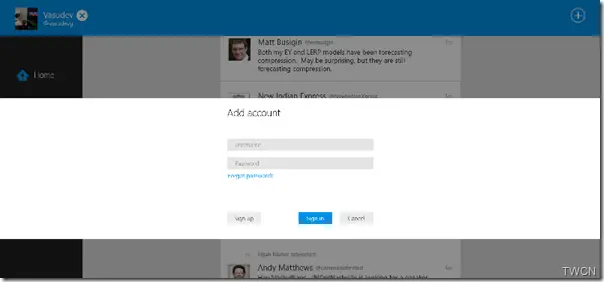 If you are one of those who maintain Twitter lists or subscribe to, you now have the Twitter Lists option too. Just go to any person's profile or click on your own profile by clicking on 'Me' and you can see the Lists option.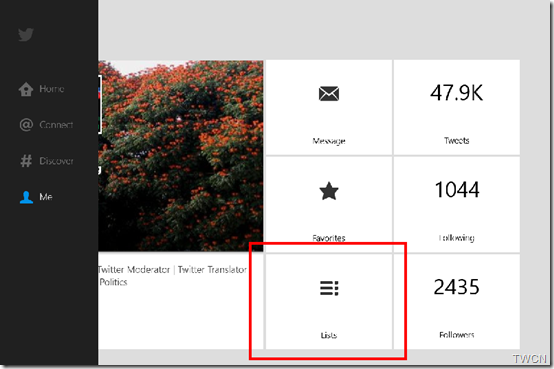 One can also see the blue dot  indicating new tweets or new follower or a new retweet of yours against Home, Connect. I'm not sure though this option added or fixed with this update as its indicating correctly for new tweets now.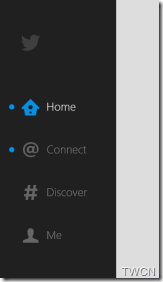 You can also pin lists, user profiles to your Start screen. Just open the List or any profile you want to add to Start Screen and right-click to get the app command bar and you'll have the 'Pin to Start' option. You can pin the Lists you refer to most on the Start screen.
So these were some additions with the new update. Also it feels like it has fixed some stability and performance bugs too as those on touch devices are having a better touch experience. If you haven't yet installed the twitter app, you can get it from Windows Store.