Twitter is launching a new feature Twitter Alerts which will help its users to get important and accurate information from credible organizations during the time of emergencies, natural disasters or any other time when other communications services aren't accessible. It's very important to be able to receive reliable information during such crisis, and Twitter Alerts is a new way to get accurate information when you need it the most.
When you sign-up to receive an account's Twitter Alerts, you'll receive a notification directly to your phone whenever that account marks a Tweet as an alert. Notifications are delivered via SMS and if you use Twitter for iPhone or Twitter for Android, you'll also receive a push notification.  These alerts appear differently on your timeline from your regular tweets as they are indicated with an orange bell. To receive Twitter Alerts as push notifications, you must be using Twitter for iPhone version 5.10 or higher, and Twitter for Android 4.1.6 or higher.
Just like other Tweets, Twitter Alerts can be retweeted, favorited and replied to, expanding their reach beyond your direct followers. With Bing's Translation Service built-in, anyone can read Tweets from all partners by clicking "View Translation".
When can the Twitter Alert be sent
Twitter Alerts are intended for crisis, disaster, and emergency communications in categories like natural disaster and severe weather, biological incidents, Chemical or hazardous materials emergencies, Nuclear or radiological incident, Explosion or blast that can produce numerous casualties, Cyber-related incident of potential or actual large-scale and negative significance, Terrorism incident, incidents of criminal activity and so on.
If any organization thinks its qualifies for the program, it can enroll in the Twitter Alerts program by completing enrollment request form. And Twitter will contact you for further for more information.
And for those who want to subscribe to Alert notification from such organization, can go directly to an account's setup page, which you'll find at twitter.com/[username]/alerts. For example https://twitter.com/usgs/alerts is the Alert page for USGS (US Geological Survey) and on web you can identify if an organization is part of the program by visiting their profile page.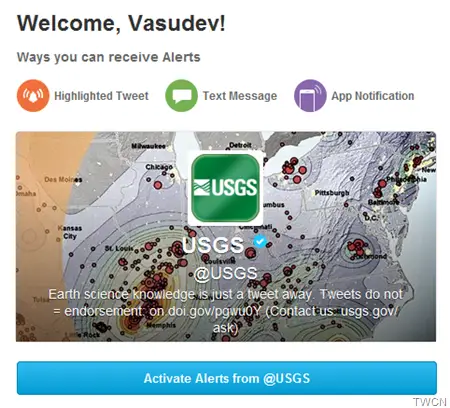 At present, number of organizations in the US, Japan and Korea can send Alerts. And this service will be expanded to include more public institutions and NGOs around the World. For more details, please check Twitter Blog.