Twitter seems to be going strong as it recently announced the launch of its new music service called as Twitter #music. Launched on the web and also on the Apple Store, Twitter #music has garnered mixed reviews ever since.
Twitter #music makes a note of user activity across its huge network to determine the popular music bands, artists, tracks and much more. Users can not just listen to new tracks and albums but also get to see the preferences and interests of their favorite music artist on the same page.
"The songs on Twitter #music currently come from three sources: iTunes, Spotify or Rdio. By default, you will hear previews from iTunes when exploring music in the app. Subscribers to Rdio and Spotify can log in to their accounts to enjoy full tracks that are available in those respective catalogs. We will continue to explore and add other music service providers." – Twitter
One good thing that this app facilitates is that users need not switch between apps of the music sources to listen to music; they can get it all done within the Twitter #music app itself. It also gives users the option to tweet about the music they are hearing at the moment.
The Twitter #music app is designed around four sections: Now Playing, Suggested, Popular and Emerging. Now Playing gives users the feed of the music tracks tweeted by their favorite artists and the people they follow through which they can tweet and listen to the desired music. To find the music that someone you follow listens to, you can search for their profile and then tap one of the listed artists, or hit the Play button to listen to everything.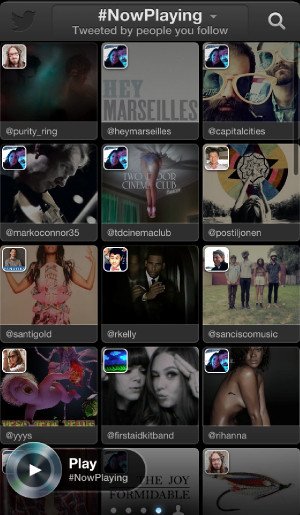 "Twitter and music go great together. People share and discover new songs and albums every day. Many of the most-followed accounts on Twitter are musicians, and half of all users follow at least one musician. This is why artists turn to Twitter first to connect with their fans — and why we wanted to find a way to surface songs people are tweeting about."
At the moment, this latest music service from Twitter is limited to only a handful of countries: the US, Canada, the UK, Ireland, Australia and New Zealand. Twitter promises that more countries will be added in time soon.
Twitter #music will change the way people find music, Twitter says. Well, let's see about that.