Twitter has launched its own video app called Vine on Thursday, January 24, 2013. Vine, the Twitter video app allows users to capture a short video of six seconds. It will let you capture and share short looping videos. This app is presently available only for iOS devices. Twitter acquired the video app Vine in 2012 and is now aiming to compete with the YouTube Capture app and Tout video app with its own Vine video capturing app.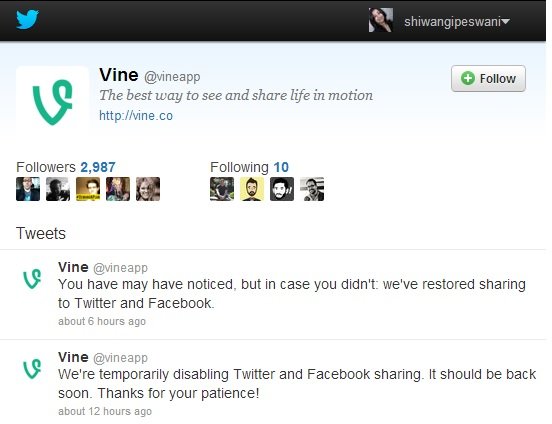 Announcing the launch, Twitter said,
Today, we're introducing Vine: a mobile service that lets you capture and share short looping videos. Like Tweets, the brevity of videos on Vine (6 seconds or less) inspires creativity. Now that you can easily capture motion and sound, we look forward to seeing what you create.

Posts on Vine are about abbreviation — the shortened form of something larger. They're little windows into the people, settings, ideas and objects that make up your life. They're quirky, and we think that's part of what makes them so special.
Vine did have a few privacy issues initially when launched. This forced Vine to disable Twitter and Facebook sharing. Users were able to see each other's email addresses and phone numbers. The issue however was fixed in a few hours restored later.
Commenting about the privacy issue, Twitter said that it was a bug allowing the cross-wiring of users accounts in Vine and is restored now.