Twitter has added a new feature that lets you share the list of blocked people. This new feature will make blocking multiple accounts easy and fast.
While there's already a mute and block feature present, some people who experience high volumes of unwanted Twitter interactions needed a more sophisticated tool. Using this new feature, one can now export and share your blocked lists with people in your community facing similar issues. The feature also lets can import other users' list into your account and block multiple accounts all at once instead of blocking one by one.
Block multiple accounts on Twitter
Let us check how to do this. On twitter.com go to settings, and there you'll have Blocked Accounts option. Click on Advanced options to get drop-down option of Export your list  and Import a list.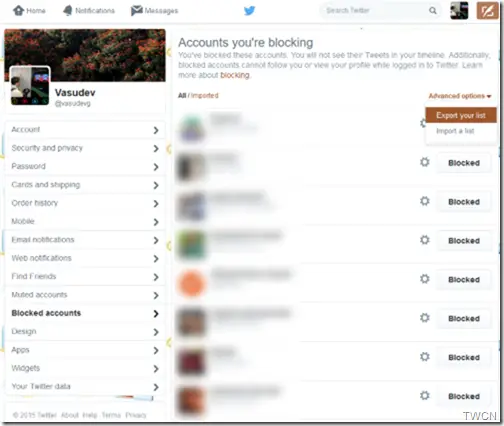 To download the list of your blocked accounts, you have to select export option and confirm the accounts you want to export.
Once you export a list, it'll create and save a .CSV file on your computer. And this file can be shared. Others will have to import this list of blocked accounts. The user who imports, can block this list all at once.
This feature is yet another step towards making Twitter safe for its users. Starting today, this feature is being made available to some of the users, and will be rolled out to all in the coming weeks.
Announcing this new feature, Twitter said it was also working on more user controls and would share more information soon.