Twitter is adding a new feature today, that will provide users with a way to add his comments to a tweet. This will make it easier for users to add their opinion or reply along with the tweet.
Earlier retweeting along with your comment was a bit cumbersome. Though most Twitter apps provided an option to quote a tweet, this just loaded the complete text of the tweet into the retweet window. Twitter users can recall how they used to struggle to accommodate their views and comment along with a tweet within the Twitter character limit in this quote option.
In the web interface even this option to retweet with a comment was not present. One had to manually copy, paste the tweet and then adjust for space to accommodate his views within Twitter's 140 character limit.
Retweet with a comment
Now with this new feature, copy-pasting, adjusting for space by shortening the words have all will be avoided. Twitter will embed the tweet and also provide you 116 characters to add your comments.
When you click on Retweet button in twitter web interface, you'll get 'Add a comment…' box as shown. If one doesn't want to add any,  you can simply Retweet.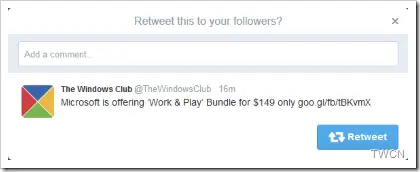 Once done, the tweet with comment added will be seen in the Timeline as shown below. The complete tweet will be embedded along with the comment. This way one doesn't have to struggle shortening the original tweet. This will also preserve the original tweet's context.

Twitter users will welcome this feature update. This feature is being rolled out to Twitter on web and on iOS . It will soon it will also be updated for other platforms. For iOS users, the 'quote tweet' will embed the tweet and provide an Add comment box.
If you are a Twitter user, you can check if the feature have been rolled out for you.