Twitter is rolling out a new home page where you'll find various interesting topics to explore. And this can be done by just going to twitter.com and without logging-in.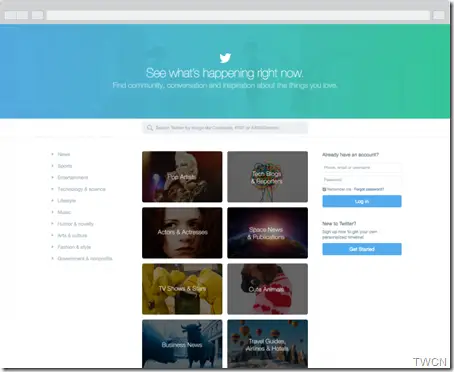 Twitter users across the world come to Twitter to see what's happening in the world, to get information on live events and breaking news. For this, they have sign-in to get full experience. They browse through public tweets, topics of their interests, and also tweet themselves engaging in the conversation. But there are millions who just visit the home page, but don't log in and still want to be informed with what's happening. At present if you have noticed, when you reach the Twitter home page, it displays different background images related to ones location and even provides the latest scores of the sports, matches going on. Now its further being improved upon.
Twitter's new home page
Now Twitter is bringing a big change to its Home page. Starting today, when you visit twitter.com home page, you can see many interesting topics to explore, like politics, TV shows, tech blogs, business news, travel guides and more. And when you click on the topics, you'll get to see timeline of Tweets from some of the most popular accounts in that topic.
It's real-time content one gets to see without logging in, its just like the experience you get when one logs-in with their twitter accounts. So if one has to tweet, converse or participate then he'll have to sign up or sign-in if one already has an account.
Informing about this new feature, the official twitter blog also said that the Twitter's front page will continue to evolve,  making it informative, entertaining and relevant to everyone.
This new feature is being rolled out first to twitter.com on desktop to U.S. only. But this will gradually be made available to all.