According to Akamai's State of the Internet Report, US ISPs are not able to provide good speeds to its customers. The report does not feature the US even in the top ten countries' list. According to the report, the Internet is getting faster but US is nowhere near high speeds. The report says the in the first quarter of 2015, the US reached the average connection speed of 5Mbps for the first time.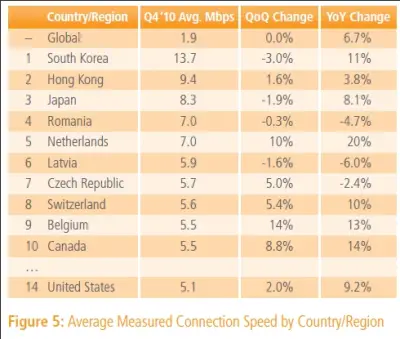 That means, though there are ISPs promising good speeds, and probably one or two standing good on their promise, the US average Internet speeds are just way down compared to Internet speeds of other countries. It is not that the users are not willing to pay. It is the lack of infrastructure that the US ISPs are willing to put in, thereby saving costs. Another factor is the legal adoption of the FCC directives as mentioned below.
Coming back to the Akamai's State of the Internet Report, the global average of top ten countries in the report is 10Mbps, which is almost double of what the US average is. Countries such as Netherlands, Ireland, Sweden, Hong Kong, South Korea and Japan has their average Internet speed up to 15 Mbps, triple the average of US ISP download speeds.
The report further states that this factor is despite the Federal Communications Committee (FCC) defining broadband as being at least 25Mbps download speed and minimum 3Mbps upload speed. 25 Mbps speeds are not common in the US. The topmost speed, 25Mbps average is reported by the District of Columbia. Only 4. 6 percent of IP addresses across the world have registered an average of 25Mbps globally with South Korea leading the figures – with 31 percent IPs using 25Mbps. Next to the District of Columbia, it is Delaware that boasts of 15 percent of broadband (as defined above) adaption rate.
The report further noticed that it is the small ISPs who provide better download speeds when compared to bigger companies. There were some names including Paul Banyan Communications, Gigazone Internet, and Mahasaka Communications Group.
Please download and read the entire report from Akamai's website.