Skype gets easier, quicker and more convenient. You can now enjoy a Skype video call with any of your friend worldwide without even downloading the app. After adding some new features in Skype for Windows 10 Anniversary Update, the company recently announced that the users can now join Skype as a guest and can chat or do voice/video call with anyone around the world with no sign-up or download. However, this new feature is available only for the web version of Skype, which means you can use Skype as a guest only via your web browser.
Use Skype as a Guest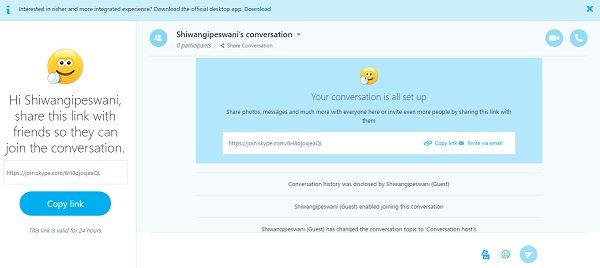 You just need to go to Skype.com, tap on Start a Conversation and add your name. Skype will then create a conversation link which you need to share with your friend you want to chat or call with. You can also share the link with a group to start a Group Conversation.
Skype allows you to invite up to 25 people on a voice or video call and up to 300 people to a chat box. Anyone who gets the link and clicks it can join the conversation instantly. The conversation link is valid for 24 hours.
All free features of Skype are available for both logged in users as well as the guests. Both users and guests can enjoy the features like video calls, voice calls, screen sharing, file sharing and instant messaging. While using Skype as a guest, the conversation lasts only for 24 hours. If you want to translate your conversation using the Skype Translator, you need to log in to your account.
Skype is now getting better and more user-friendly. Back in the month of October, Skype introduced improved call infrastructure and other new features including Skype for Business Mac, Skype for Business mobile apps on iOS and Android, Modernized voicemail and Skype for Business 2016 Client.
Watch the video below to know more about using Skype as a guest.
https://www.youtube.com/watch?v=j7SxypblIlw