Visio Online Preview 2017 Updates have been rolled out with new VSD support and Cloud Storage options. This update is available for all Office 365 customers.
Announced last year, Visio Online Preview is a new way to share and view the Visio diagrams on the web. The Online Preview of this diagramming application lets the users create their diagrams and save them as .vsdx files on the web. With the latest updates, users can now save their files in .VSD file format and save them in the cloud storage too. Users can now view those files right from their web browser across various devices from nearly anywhere. Microsoft also released the Visio Viewer app launched for Web and iOS back in December 2016.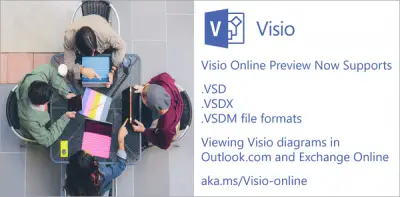 While .vsdx is a default file format for Visio 2013 and onwards, the newly added .VSD is the default file open and saves format used in Visio 2003, 2007 and 2010.
Visio users earlier could save their diagrams only in OneDrive and SharePoint Online but with the lately updated Cloud Storage Partner Program (CSPP) they can save their Visio files (diagrams) in the cloud and view them right from their browser from anywhere and moreover convert it into an operational dashboard where the entire team can work together.
For those who don't know, Visio is a vector graphics and diagramming application from Microsoft. Visio, the application includes a huge variety of built-in shapes, stencils, and objects used to create complicated diagrams.  The application was originally made by Shapeware Corporation in 1992 but Microsoft acquired it in 2000.
As we know, a picture is worth 1000 words and visual communication in the form of diagrams has always been considered as more powerful. Visio has always been admired as a powerful tool to create diagrams, business report blueprints, project charts, network maps etc. It has been the favorite diagramming tool for more than a decade now and is widely adopted as a process mapping tool.
Do check the official blog for more about the Visio Online Preview Updates.