The popular Vivaldi browser has a major update coming your way. The version 1.5 of their web browser brings along some unique features; it gives you the power to control the color of smart-home lighting through browsing. Its founder Jon had told us a few days back that it would including this feature.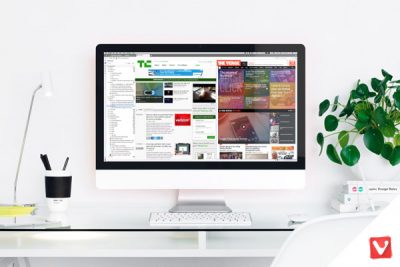 Vivaldi will let you control your home lighting
This update also offers a lot of improvements over previous versions, including being able to drag tabs, tab stacks and tab selections between windows. Other small improvements like delta updates, reader mode button and automatic screen shots in notes are also part of Vivaldi's version 1.5 update.
Vivaldi, in an unusual tie-up with Philips, today announced the integration of Hue color lights into their browser. After enabling Hue in Vivaldi Theme Settings, a tap on the Philips Hue Bridge will connect your smart lights to the browser. Selecting which lights Vivaldi should control, the browser will synchronize your physical surroundings with the color of the web.
While the light controls might not be a revolutionary function for a web browser yet, it surely does open up the avenues for developers to experiment with other such IoT devices to be controlled via web browsers in the future.
Vivaldi has also made their Reader View more accessible than before. The browser now adds a reader mode button to the address bar. The reader mode button allows you to remove the clutter for better readability. Apart from that, popular features like Tab Dragging and Tab Stacking have also been improved to be used with ease.
Automatic Screenshots in Notes is yet another update by Vivaldi browser.  If you add a note from selected text on a web page, the note will automatically include a screenshot of the page. This is on by default and can be turned off in the settings.
"We want our browser to be intelligent and create new experiences and services. Thinking beyond a browser and entering the real world is not only adventurous but also encourages the spirit of innovation and experimentation. We are open to new 'out of the box' ideas that make your browsing experience more creative and pleasurable. Ideas from our users and continuous implementations of those ideas only strengthen our relationship with them." said Jon von Tetzchner, CEO, Vivaldi Technologies.
Read the announcement here and watch the video to get an idea of how it will work.
https://youtu.be/FqcYrM1DpzY
Try it out and let us know what you think of it.