If you are an avid user of Microsoft's OneNote, it is time that you give your fingers much needed rest. Microsoft has rolled out the Voice Dictation feature for OneNote Online users allowing them to create documents leisurely.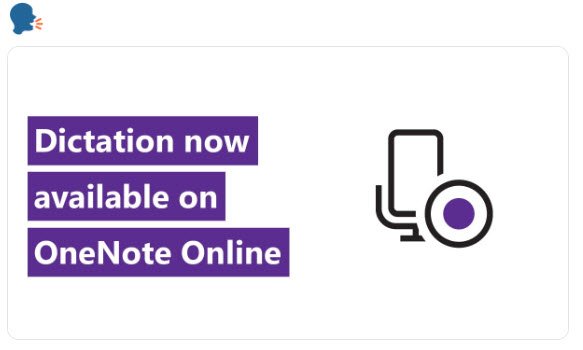 The Voice Dictation feature was announced in March this year when Microsoft released it for the Office Insiders on Windows. Since then it has been received really well by OneNote users. The feature was also added to Microsoft's desktop office suite in July this year and now it is made available for OneNote Online users.
Voice Dictation in Microsoft OneNote Online
Along with OneNote Online, Voice Dictation is also available on Word Online. Announcing the general availability for OneNote online users, Microsoft wrote on Twitter,
Why type when you can shout out all those great ideas you come up with? Get started with dictation in #OneNote Online, now available worldwide for free at http://OneNote.com .
Microsoft says that Voice Dictation features will exclusively help users with dyslexia allowing them to create documents easily. However, this feature is sure to become popular among common users too as it provides the much-needed rest to the fingers and everyone needs that, is n't. Microsoft is also working to bring this feature to PowerPoint, Excel, and Outlook in 2019.
Using Voice Dictation is easy and you just have to go to OneNote.com and log in with your credentials. Next, you will see you will see an icon of a mic on the right side of your screen, click on it and speak your mind.
Ensure that you have turned on the microphone and it is in working condition. As you talk text appears in your document. Speak clearly and conversationally. When you do this, it picks up on your pauses and inserts punctuation for you.
By the looks of it, Voice Dictation looks to be a great feature and allows even those who require special care access to the digital world. Another advantage is that since it is available on the web, you can use it on multiple devices.