If you are using WhatsApp on your Windows Phones, then get ready to enjoy the experience of making phone calls on a go via your favorite instant messaging space. The WhatsApp calling feature is expected to come soon to Windows Phones.
Earlier this year at MWC2015, the WhatsApp CEO Jan Koum revealed the plans of the company to add the voice services to its feature list. After rolling out this new functionality on the Android platform, the developers of WhatsApp are all set to showcase it to their Windows Phone users in the near future.
WhatsApp Calling feature for Windows Phone
According to an Italian website, the new voice calling feature will soon arrive on the Windows Phone platform, probably in the upcoming weeks. The email shown below from the WhatsApp team shows that the company is inviting the Italian developers to locate the menu items related to the new feature for Windows Phone. The text confirms that the feature will be soon headed to the WhatsApp Windows Phone version.
This new feature for VoIP calls will not only enables users to make voice calls over the Internet, but also allow them to access the history of incoming as well as outgoing calls. In order to enjoy this new feature, you might have to update your app to the stable version (without any bugs).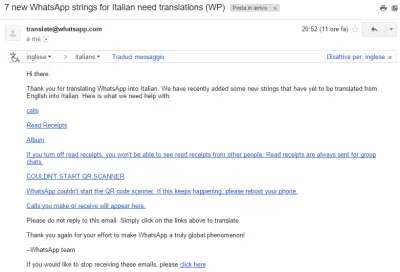 Following his announcement, Koum and his team has already rolled out the voice calling services for the Android devices and are testing the same for the iOS platform. The latest news even confirms the arrival of the service on Windows Phone devices soon to be followed by the BlackBerry.
WhatsApp is the popular instant messaging client and with the arrival of the voice-calling feature to Windows Phone devices it might impose tough challenge to the already existing services such as Skype and Viber.
At the moment, there are no confirmed details regarding the public release of the voice calling functionality on the WhatsApp for Windows Phone.
Now Read: How to control Whatsapp Spam.