WhatsApp Messenger as every one knows it is a cross-platform messaging service that allows you to send messages, photos, audio notes over the internet. With its multi-platform support, WhatsApp is one of the fastest growing messaging service.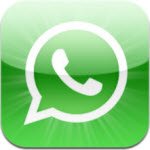 The company has announced on Twitter that, WhatsApp Messenger for iOS is available on the App store free of cost.
Happy Holidays! WhatsApp for iPhone is free for a limited time. Tell your friends!
Being a multi-platform messenger, it is already free to download for all the platforms like Android, Windows Phone, Symbian, Blackberry etc.
iOS is the only platform where WhatsApp is a paid app. It used to cost $0.99, but now it is free to download for a limited time.
Even though, it is free to download for other platforms, the messaging service is free only for a year. After a year, the WhatsApp messenger will be charged $0.99 per year.
We have no idea for how long it is available for FREE – so grab it as soon as possible.
New iPhone 5 users, this is bliss for you!