WhatsApp has announced a redesigned storage management tool. It will allow users to quickly free up space for incoming photos, videos, and messages. As a result, WhatsApp now makes it easier for users to find and delete media files clog up too much space on your device.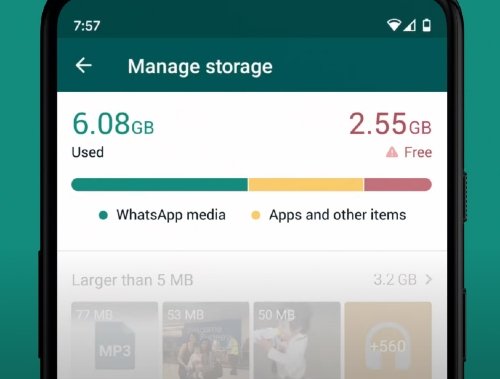 WhatsApp redesigns Storage Management tool
"We've made it easy to review, bulk delete items and free up space. This new storage management tool can be found in Settings > Storage and Data > Manage Storage," WhatsApp said.
This new WhatsApp feature will become available for users around the world this week. WhatsApp users will be able to access this feature in the app. All you need to do is navigate to Settings > Storage and data > Manage storage.
How is this feature different from the existing storage management tool?
WhatsApp already has a storage management tool to offer to its users. However, there are some differences between the old feature and the new one. For now, WhatsApp offers a simple "Storage Usage" tool. It only organizes all available chats by the amount of storage they consume (including the number of messages, photos, GIFs, and videos in each chat), Photos and videos usually take up more storage space.
It provides users with the option to delete each category with a handful of taps. This may be a useful option. However, it does not provide users with a way to explore the content they are trying to delete. For example, you need to move some media from your family WhatsApp group to trash. However, you do not necessarily want to remove important photos. This is where the new WhatsApp storage management tool will come in handy.
WhatsApp new storage management tool: How does it work
With the new, updated storage management tool, WhatsApp is taking the optimization of storage consumption to a whole new level. You will be able to view thumbnails of content you want to delete. It also categorizes photos as "Forwarded many times" and "Larger than 5 MB." This way, you can delete important photos and photos that take up large storage space on your device.