A new feature allowing WhatsApp users to add contacts by scanning QR code is finally available to select users. Some of us at TheWindowsClub has received the QR code option in WhatsApp Messenger for Android beta version 2.20.171. Let's see what the feature is all about.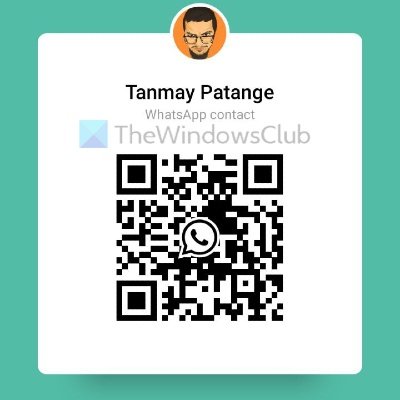 WhatsApp QR code is available
The newly-added QR code feature in WhatsApp is currently limited to beta testers. We discovered this feature in WhatsApp Android beta v2.20.171. If you are a beta tester, ensure that your WhatsApp is up-to-date.
How to find a QR code associated with your WhatsApp number
Once you have the latest version of WhatsApp Messenger beta installed on your Android phone, navigate to Settings, and find a QR code option available at the top right corner. However, we don't know whether the option is being rolled out to iOS users or not.
Go to WhatsApp > Settings > Tap on the QR code option next to your profile name and picture. Under QR code, you will find two additional options: My code and Scan code.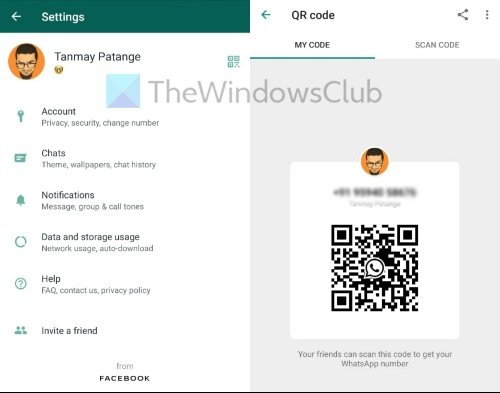 WhatsApp users will be able to find a QR code associated with their WhatsApp number under 'My code'.
"Your friends can scan this code to get your WhatsApp number."
Plus, you can share your QR code via other social media, email, and messaging apps.
How to scan a QR code to add a new WhatsApp contact
Another option 'Scan code' allows WhatsApp users to scan a QR code shared by other users. This option also enables QR code scanning by uploading a picture. It also allows users to turn on the LED flash.
WhatsApp users can also reset their old QR code and generate a new one. Once you reset your QR code, your existing QR code and invite link will no longer work.
WhatsApp QR code functionality will make it easier to add WhatsApp contacts. A similar option is already available on apps like Facebook Messenger, Instagram, Snapchat, and more.