Apple has always been a brand to reckon with, with its unique consumer devices like iPad, iPhone and iPod and this has further helped surge its market value. With a market value of US $485 billion, the highest for any company in the world, Apple has steadily built up its assets, investment specifics and cash reserves and may continue to do so.
But with no more Steve Jobs and a flurry of disappointing product launches, not to forget the erroneous Apple Maps drawing the ire of dedicated Apple consumers, it may be more of a downhill than otherwise. This was reflected in the share value with Apple's shares plunging down from a record high $705 to $515. Add to that is Apple's prime dependency on a couple of its products, namely the iPhone and iPad which together account for 69% of the revenue last quarter which may not be a positive bell ring.
But Apple has rewarded its investors well, as can be seen from the following chart prepared by WSJ. If an investor had invested $10000 in Apple in 2002, its value today would be a stupendous $667,159. But if he had invested the same 410000 in Microsoft, the investment would be a meager $12270!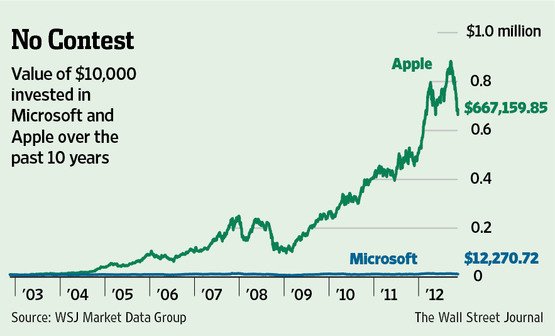 In todays times however, buying into Microsoft may make more sense. Not only is its share price lower, it is it also cheaper than Apple relative to its earnings per share. Plus it looks like that the future could well belong to Microsoft.
Apple is a super company currently making supernormal profits from very high market shares in markets it created with truly super products, says Steve Russell, chief investment officer of London-based investment firm Ruffer & Co., which has $20 billion under management. But that "marvelous situation" won't continue forever, he says. Microsoft is the opposite, Mr. Russell says, a so-so company making OK profits with nothing expected to change. But they are currently launching a key set of new products that might just change all this.
Microsoft is a stable competitor. It has relatively less share value, starting at $26 a share and a market value of US $220 billion but given the recent product launches and its revised strategy in approaching consumers with a diverse platform integration plan, the future is definitely bright for Microsoft and its shareholders.
Surface, the tablet launched from Microsoft's stable, has been doing well and so is Windows 8, the latest version of its own operating system meant both for PCs and touch-tablet devices. Windows operating systems provide about a quarter of its revenue and business software such as Office contribute towards a third. The other quarter comes from its server services and the remaining from Xbox, computer games and other sources.
Windows 8, Windows Phone 8 and its own indigenous Surface tablet may help Microsoft uplift its prospects on the market share table so investing in Microsoft shares compared to Apple's is not a bad idea at all.
Not everyone wants only apples in their basket, do they? And maybe the tortoise could end up being a winner, after all!