It may have gone unnoticed but if you received Windows 10 v2004 May 2020 update for your Windows 10 PC then a useful feature known as "Fresh Start" in your Windows installation appears to have been broken. Last month, in May 2020 Microsoft officially started rolling out the Windows 10 May 2020 Update via Windows Update.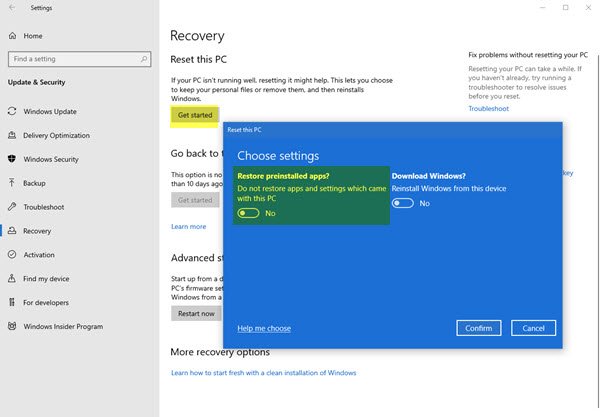 Fresh Start feature has been moved
Fresh Start feature allows Windows 10 users to clean up their Windows installation without removing personal files. It is useful for pre-built systems and laptops that usually come with bloatware.
What makes Fresh Start so effective is the fact that it removes apps that do not come standard with Windows 10 while preserving the personal files and settings. This allows users to reinstall Windows 10 without losing their data. It is an important tool for many if their PC runs into a serious problem.
The feature is isible at Settings > Update and Security > Windows Security > Device Performance & Health > Additional Info.
After clicking "Additional Info" users would be presented with the choice to either "Get Started" or "Learn More".
However, post the May 2020 Update and if your PC received it, the "Additional Info" option now simply leads you to the Microsoft Support site. This is the page that pops up when the user clicks "Learn More".
There is a reason!
Says Microsoft,
Fresh start is available for Windows 10 versions prior to 2004. For version 2004 and after, Fresh start functionality has been moved to Reset this PC. To reset your PC, go to Start > Settings > Update & Security > Recovery > Reset this PC > Get Started. Then select Keep my files, choose cloud or local, change your settings, and set Restore preinstalled apps? to No. If you don't see the option to Restore preinstalled apps, it means your PC doesn't have preinstalled apps configured and won't restore apps from your PC manufacturer.
Windows 10 May 2020 update is facing several issues and users have reported that the update is affecting Printers, complaining that documents are disappearing from the queue. Attempts to uninstall and reinstall printers have also not led to fruitful results. Chrome users too, are getting logged out. There are reports that it has also broken Defrag instrument and corrupted Storage Parity Space for some Windows 10 customers.