Cortana, the digital assistant on Windows, has received many updates in the past akin to the main OS. The case with the latest Windows 10 Insider Build is no different than this. The Build 20270, which got into the Dev channel, has equipped Cortana with a much-anticipated file skill.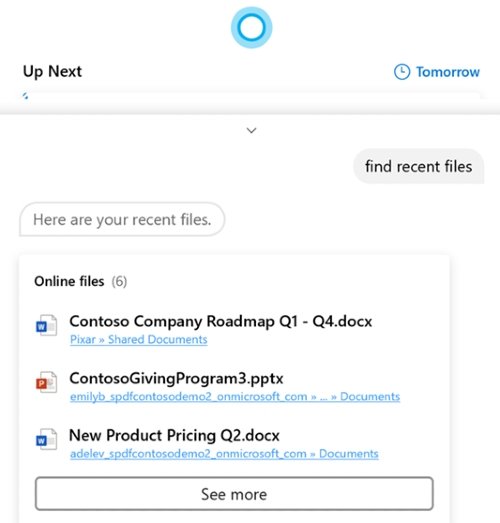 Windows 10 Insider Preview Build 20270
This new skill allows Cortana to explore and open locally stored or SharePoint files without leaving the assistant interface. However, it should be noted that this new file skill is not exclusive to the Insider program. Any Windows user can utilize this unique skill — as long as they are running the latest version of Windows 10.
"Enterprise users who sign into Cortana with their corporate credentials (e.g., AAD) can search for files saved on OneDrive For Business and SharePoint along with files saved locally on their PCs (this setting is at Settings > Search > Searching Windows). Users using a Microsoft account (e.g., ending with Outlook.com or Hotmail.com) can use Cortana to find files saved on their PCs. This feature is currently available to our English-speaking users in U.S," Microsoft said.
Cortana will soon be able to find and open files in Windows 10
This is how the feature works. When you want to find a few files you recently worked with, you can ask Cortana to 'open my recent files.' Cortana will then show the list of those files without launching the fully-fledged File Explorer menu. The user can click on the 'See More' button to open File Explorer and make changes.
It's also possible to use other keywords to open files and folders via Cortana. For instance, you can ask Cortana to open a particular file by specifying its name or when it was saved on your system. There could also be a few more features.
While that is the case for local Windows 10 users, Business users have enhanced possibilities with this newly-added skill. Most importantly, just as they can open files stored locally on the device, they can access data from SharePoint and OneDrive for Business services.
This feature alone can save a lot of time for business users since they would have had to open multiple apps otherwise. As we said earlier, you don't need to be on the Insider program to use this feature. However, it would be best if you had the Windows 10 version 20H2 on the system.
Besides, the Cortana language and region should be English and the United States, respectively. Cortana is not the first to launch the file management skill, though. It was already available on Siri, which can open files on command.
So, we could see this new Cortana skill as Microsoft's way of pushing its digital assistant towards the ongoing competition.