Microsoft released Windows 10 Insider Preview Build 14366 for PC and Windows 10 Mobile Insider Preview Build 14364 to Windows Insiders in the Fast ring! With these new build releases, the Windows 10 Anniversary Update June Bug Bash kicks off.
As date for Windows 10 Anniversary Update releasing this summer nears, the Windows team is focused on getting this update ready to ship. So one won't get significant new features in newly released builds. But these builds will include lots of important fixes and performance improvements.
Read: Windows 10 Anniversary Update features.
Windows 10 Anniversary Update June Bug Bash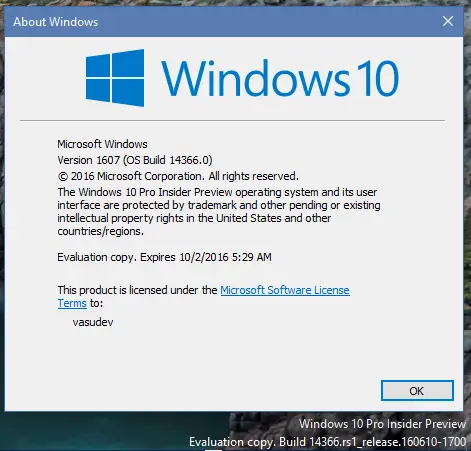 What's new in these Builds:
Office Online extension for Microsoft Edge: Office Online extension lets you use Word, Excel, PowerPoint, OneNote and Sway Online without needing Office installed. One can get this from extensions page of Microsoft Edge Dev site.
Windows Store updated: A Store update (11606.1000.43.0) is rolling out today. Apart from performance improvements, there's an overall improvement in navigating the Store.
Improvements and fixes in Build 14366 for PC:
French Windows 10 Insider Preview Build users should receive this build as the issue is fixed.
Issue of Settings app crashing when navigating to Privacy pages is fixed.
Issue of PC and Mobile devices projecting to PC via the new PC Access feature failing is fixed.
Size of Windows Ink Workspace icon in notification area is updated.
Cortana search results updated. Right-clicking on a .docx file provides open that file's location in context menu.
Issue of not being able to unsnap a full screen Remote Desktop window is fixed.
Issue of tile names cutting off after using semantic zoom is fixed.
"Recently added" section of Start now moved to above the "Most used" section in the All apps list. Also increased the duration of time in which apps will be listed here to 7 days.
Issue of Active VPN connection blocking the PC from going to sleep from idle is fixed.
Issue of Touch keyboard appearing on Lock screen when Num-lock key pressed is fixed
Issue of Microsoft Edge using large amount of CPU when page with many animated GIFs opened is fixed. Also some Captchas not displaying correctly also fixed.
The default location will now be preserved across build updates.
Issue of Skype notification in Action Center not expanding is fixed.
Issue of Settings app opening a blank page after selecting a settings page via search results.
Issue of File Explorer window navigating back to Quick Access after deleting something from the current folder in view is fixed.
Issue of existing reminders failing to display in the Cortana UI and an error when attempting to save a new reminder is fixed.
Mobile Hotspot settings page updated.
Issue of battery flyout not reporting correct charging state is fixed.
Issue of Title bars of apps using dark theme wouldn't be dark is fixed.
Issue of progress indicator seen before background image loads on the lock screen.
 Improvements and fixes in Build 14364 for Mobile:
Settings app Improved. Also issue where progress bar not shown when a page takes time to load is fixed.
Issue of number of app logos missing from notifications despite being visible in Action Center.
Issue where Alarms and Clock Live tile continues to show active alarm after a one-time alarm already gone off and dismissed is fixed.
Issue where Cortana would prompt you to unlock your device before reading a text over Bluetooth is fixed.
Issue of Microsoft Edge crashing while scrolling some webpages is fixed.
Issue where disconnecting from Bluetooth speakers would result in the phone being set to vibrate if it hadn't already is fixed.
Known issues in Build 14366 for PC:
Project Centennial -The Desktop App Converter Preview will fail to run on this build.
Clicking on a file download link outside of Microsoft Edge will sometimes open a tab and close it without doing anything.
Narrator will not launch when switch toggled to "on" from Settings app> Ease of access > Narrator
Known issues in build 14364 for Mobile:
Deploying an app via Visual Studio 2015 Update 2 to a phone running this build not possible.One has to use command-line tool WinAppDeployCmd.exe to deploy.
Dual-SIM devices data issues are under investigation as data doesn't work correctly with second SIM.
Quick Actions icons are not in same order. Have to re-arrange your icons from Settings > System > Notifications & Actions
Announcing the new build, Dona Sarkar also provided some details on June Bug Bash.
For details check the source.