Microsoft is testing built-in Skype calling support in Windows 10. Recently, Microsoft briefly announced Windows 10 Insider Preview Build 20211 before the update was pulled due to a bug. As spotted by Microsoft MVP Rafael Rivera, Windows 10 20211 is experimenting with adding Skype Meet Now feature directly into the shell.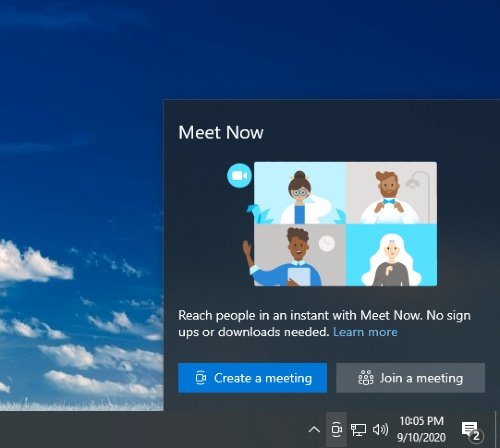 Windows 10 to receive Skype's "Meet Now" feature
The 'Meet Now' feature enables one-click access to Skype calls. It allows users to invite both Skype and non-Skype contacts to easily join video meetings. All you need to do is sign in to Skype and select the Meet now button. It will provide you with a call link and a Share invite button. This way, you can easily invite other users to your Skype calls.
Whenever you are already to set up a quick Skype call, open the URL in your web browser and click on the 'Start call' button. Skype Meet Now supports Microsoft Edge, Google Chrome, and Apple Safari.
https://twitter.com/WithinRafael/status/1304286487077244929
Microsoft recently enabled one-click access to Skype calls without sign-ups using Edge. And now, Windows 10 will introduce Skype's Meet Now button in Windows 10 System Tray. You can easily add the Skype Meet Now button to the Windows 10 Taskbar.
This experiment means one thing: Windows 10 users may not require to download Skype on Windows 10. This way, Microsoft and Windows 10 will together want to increase the engagement of Skype for Web.
Remote and video communication services such as Zoom, Google Meet, and Microsoft Teams continue to observe an increase in overall consumption by users. As more users continue to rely on web-based apps and services, this feature will help Microsoft increase Skype's user base.
What's more, Windows 10 is also experimenting with Skype's Meeting now feature in the operating system's App Dock.
Read: Enable or Disable Windows Update Status icon in System Tray on Windows 10