In what could be good news for Windows 10 users, Microsoft is finally readying the availability of its redesigned Windows 10 Start Menu. The latest Windows 10 Insider Preview brings a new Windows 10 Start menu design, refreshed Alt-Tab function, among other improvements. Microsoft has already released Windows 10 Insider Preview Build to Windows Insiders in the Dev Channel.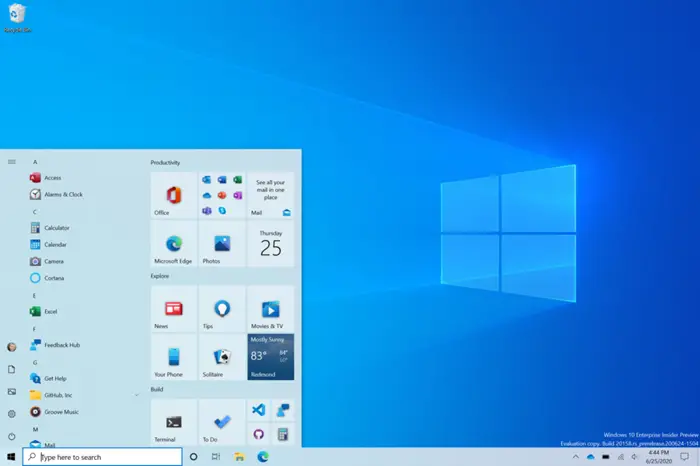 Windows 10 to get a redesigned Start & Taskbar
Microsoft's new Windows 10 Start menu design reduces the significance of Live Tiles to some extent. The redesigned Windows 10 Start menu removes the solid color backplates behind the logos in favor of a somewhat transparent background to the tiles.


In his recent blog post, Brandon LeBlanc, Senior Program Manager of Windows Insider Program, wrote:
"We are freshening up the Start menu with a more streamlined design that removes the solid color backplates behind the logos in the apps list and applies a uniform, partially transparent background to the tiles."
However, this new Windows 10 Start menu design is part of Microsoft's bigger plan to encourage the Fluent Design icons for Office and Edge. This strategy will also help the newly-redesigned icons for built-in apps like Calculator, Mail, and Calendar to stand out.
Windows 10 also allows users to apply their accent color to the Start frame and tiles. Enable Windows dark theme and then toggle "Show accent color on the following surfaces" for "Start, taskbar, and action center" under Settings > Personalization > Color.
Windows 10 brings changes to Alt-Tab
In addition to a new Windows 10 start menu design, Microsoft is bringing some noteworthy changes to the Alt-Tab function, which will now incorporate all active tabs in Microsoft Edge. This feature is limited to select Windows Insiders with the updated Edge Canary or Dev build.
"We're making this change so you can quickly get back to whatever you were doing—wherever you were doing it."
Windows 10 users to get personalized Taskbar experience

Windows 10 users can now personalize their default taskbar appearance. For example, Xbox Live users can pin the Xbox app whereas Android users can pin their phone onto Windows 10 taskbar. However, this is limited to new account creation or first login scenarios whereas existing taskbar layouts will remain unchanged.
Other changes include improvements to the notification experience and Windows 10 Settings menu.