Amidst the ongoing BUILD 2015, Microsoft announced today availability of new Build 10074 of Windows 10 Insider Preview. Microsoft has made this new build available to both the Fast and Slow ring for Windows Insiders. This means that the ISO version too is made available for those who want to do a clean install. Just last week Microsoft had released Build 10061 to the fast ring. Windows Insiders on slow ring too can now get this new build.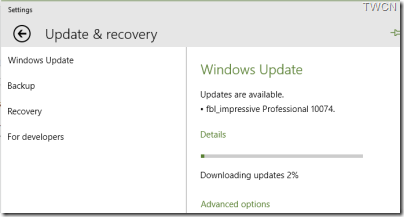 The features and design continues to evolve for Windows 10. One subtle change Microsoft has made with this build is, its now calling "Technical Preview" as "Insider Preview". This shows how important the Insiders community are to Microsoft.
What's new in Build 10074
Bunch of UX improvements

Live Tile animation for Start
Performance and stability improvements for Live Tiles
High DPI displays better supported such as for Multi-monitor set-ups.
If one remembers Aero-glass of Windows 7, it's come back as users requested it. Also Microsoft is trying something like 50% of users will see normal transparency on the Start menu and taskbar while the other 50% will see a blur effect like frost glass on the Start menu and taskbar. If there's positive feedback, Microsoft will add this blur effect to more areas.

Continuum improved

Continuum made much better, simplified taskbar.
On closing an application in tablet mode, you'll be taken back to Start screen instead of desktop, as expected when using a tablet.
snapping improved, shared divider between two snapped windows now let's you adjust the size.

Improvements in Multi-tasking

Alt-Tab, Task-View and Snap Assist improved.
Snap Assist supports ability to close a window during Snap Assist.

New default Windows sounds
Visual refresh for Cortana

Start and Cortana more tightly integrated
new Windows split view control added to Cortana

New and updated experiences in Cortana

This new updated experience in Cortana is powered by Bing Instant Answers so Cortana will aim to answer your question while you're still typing. You can try some of the questions as

Weather – "Seattle Weather"
Finance – "MSFT stock"
Calculator – "48*92"
Tech Help – "memory in my computer"
Chit Chat – "tell me a joke" and many such questions. Interact with Cortana trying them and provide feedback.

Music and Video Preview apps updated

Music Preview and Video Preview apps updated to

ver

3.6.999.0
more immersive Now Playing experience with a true full screen mode
download movies, TV shows, TV seasons and check progress, pause, resume, cancel the download. You can also download, delete, and even re-download videos as many times as you want on up to three devices

Updated Xbox app

updated to 4.4.9014.0 or higher
Game DVR for PC games
screenshots, a Live Tile, user profiles and real-name sharing
drivers for Xbox controllers are now included with Windows 10

Improved Windows Store Beta

single unified Store experience
Xbox Live games and in-app purchases
available in many more additional markets

Discovering features

Microsoft will help users to know features through Start, the Lock screen and Cortana such as showing tips and tricks on the Lock screen. This feature is still rolling out.
Issues fixed in Build 10074
can launch Win32 (desktop) apps from the Start menu.
can download music in the Xbox Music and Music Preview apps
when an app playing audio is minimized, it should continue playing
Known issues in Build 10074
Developers cannot enable Developer Mode in the Settings app for installing and testing apps. Will be enabled in future builds. Enable your device for development via Group Policy editor.
some games may not work in full screen mode. A fix will be issued via WU soon
People app still crashes. An update via Stores beta will be released to fix.
So as can be seen Build 10074 has lots of features and improvements. Check for WU to get this upgrade or if you want to clean install get the ISO, its also available for Windows Insiders.
For more details please refer Windows Team blog post