With a month to go for Windows 10 release, Microsoft has made available Windows 10 Insider Preview Build 10158 for PCs in Fast ring today. This build with some additional UI fine tuning is full of stability and quality improvements. And the main thing is, this build includes Microsoft Edge branding, which we have been getting in earlier builds as Project Spartan.
What's new in Build 10158
Microsoft Edge: Most noticeable thing about this build is, it now includes the Microsoft Edge branding.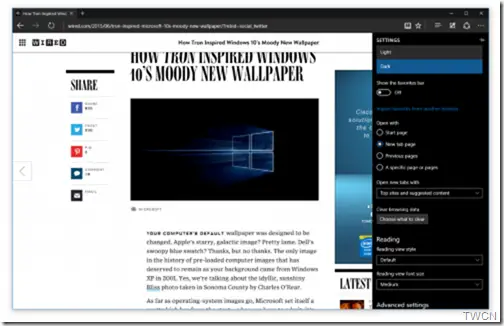 NOTE: Microsoft Edge has a new app ID so it will cause any favorites, cookies, history and Reading list items that you have saved in Project Spartan in earlier Windows 10 Builds to be lost after upgrading to this build. So ensure that you backup your favorites before upgrading to Build 10158. Please check how to do this here.
Microsoft Edge gets a 'Home' button.
Ability to import favorites/bookmarks from other browser into Microsoft Edge.
More options added in Microsoft Edge to tweak what you see on Starting it.
New tab page customization
Password and form-fill support
Audio from Edge plays while minimized or in background
Tabs can be dragged & dropped
Dark theme

UX improvement:

Bug fixes for Continuum, improved tablet mode animation,
improved support for Windows 8/8.1 apps and classic Win32 apps in tablet mode
Swipe on the left side to open All Apps when in Start Menu. This also works in Tablet mode when you have opened the left side of the Start behind the hamburger menu
Click on a letter in All Apps to quickly go to apps on the All Apps list under that letter.
App in the taskbar flashes in Orange color when it needs attention
Progress animation in Taskbar changed back to green and animating horizontally.

Cortana updated:

Cortana now has dark theme to match rest of OS
Flight tracking enabled "..when you get an e-mail with flight or package information from supported providers they show up in the Cortana experience and Cortana will also alert you about them…"
Alerts for going to work, going home, airport are also enabled.
email sending with Cortana – For example – you would say something like "Email Gabe Aul Super Awesome Window Feedback…" . Just say everything at once such as who you want to email (you can send to multiple people), the subject of the e-mail, and what you want your email to say. You can even make corrections. At present this feature works for US (English) only and needs net connection.

Cortana integration with Office 365:
Photos app updated:

Photos app is updated via Windows Store beta.
General performance and reliability improvements
Top requested feature by Windows Insiders considered. Supports animated GIFs.
'Open with' button added in Photo viewer.
Links to saved photos, screenshots, camera roll all available on Album page.

Snipping tool improved:

New feature added. Now can set up to a 5-sec delay to capture pop-up menus.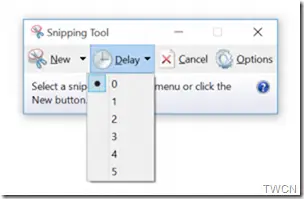 Insider Hub not pre-installed:

As mentioned in our earlier post, Insider Hub is not pre-installed starting from this build. You can reinstall by going to Settings> System> Apps & Features. Click Manage optional features > Add a feature. Select Insider Hub entry.Click install.

Windows 10 SDK Preview released:

Windows 10 SDK will also be flighting for this build. Microsoft's goal will be to match each OS flight delivered to Insiders in fast ring. There may be some release without the SDK. Microsoft will also release a matching version of Windows 10 Mobile emulator. Please check Building Apps for Windows blog for more details.

Surface 3 Fix:

This build provides fix for the issue that was preventing Surface 3 users from upgrading successfully in prior builds.

Surface Pro 3 Fix:

This build has several fixes for Surface Pro 3 that improves battery life.
Know issues in Build 10158:
Microsoft's Gabe Aul in the blog post says,
"We don't have any significant known issues for this build worth noting in the blog post but we are servicing several issues so make sure you check Windows Update for those."
That's a good thing to know as we approach near to Windows 10 Final release. Hope all issues gets ironed out and we users keep sending feedback for further improvements. Will there be any more builds before the Final release or we get updates for fixes via Windows Update..have to wait and see.