Microsoft today released Windows 10 Insider Preview Build 10547 for PCs on the Fast ring. The last build released was 10532. Build 10547 fixes some of the bugs, improves over the previous build and adds some new features. Let us check them in detail.
What's new in Build 10547:
Start improved: Based on the feedback from Insiders, Microsoft has added the ability to have a 4th column for the tile groups on Start. At present it has 3 columns of medium sized tiles. By adding the 4th column, one can have 2 wide or large sized tiles side by side in a group. To enable this go to Settings > Personalization > Start and enable "Show more tiles".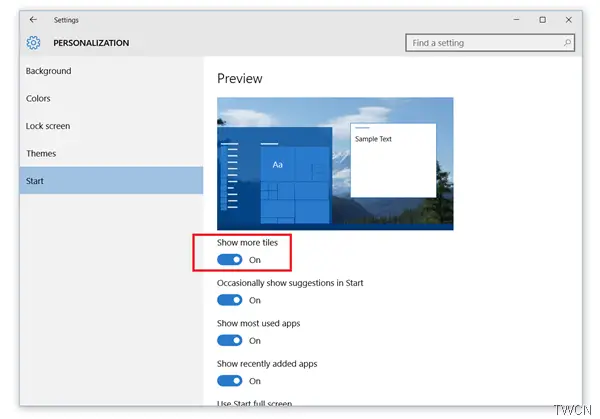 Also support for number of tiles on Start has been increased to 2048 from 512 at present.
Tablet mode improved: Now you can snap apps to left and right, replace a previously snapped app with another and swipe down to close an app when in tablet mode from Task View.
Many apps get big updates: Many apps like Photos, Xbox, Groove, Mail and Calendar, Maps gets updated. Photos app gets a folder view making it easy to see OneDrive and PC folders. While the Xbox app gets a big update.
Text input panel improved: The Text input panel now improved to expands as you write adding more space in Latin languages. The text input panel now no longer opens automatically when not in tablet mode or when an external keyboard attached.Also improved to provide more relevant suggestions. Additional punctuation support.
Improvements for developers: This build includes a preview of Object RTC in Microsoft Edge. This enables real-time audio and video communication directly inside Edge without installing any plugins.
Other improvements: This build also adds ability to turn off Windows background picture in the sign-in screen from
Settings > Personalization > Lock Screen and turn off "Show Windows Background picture on the sign-in screen"
Things fixed in build 10547:
Many underlying causes of the critical error dialog related to Start.

Search working more consistently with Start

No more lighting up of Action Center notification icon even when there were not any new notifications.

Truncation of Battery fly-out text in some languages fixed

Ability to shuffle backgrounds randomly instead of the order they appear in folder.

Cortana can now be used with local accounts as well as with a Microsoft account

Many audio related issues fixed including specifically related to Realtek
Known issues in build 10547:
Windows Store apps may not update automatically. You have to check it manually.

Using Notepad.exe from the command line to open files when using only a file name will fail with permission error. So have to use full or partial path such as '.\file.txt' or using File > open options in UI. Will be fixed in future build.

Clicking on system icons in notification area quickly can cause Windows shell blocking the launch of fly-outs like audio, networking etc. Reboot to resolve.

Settings > Update & Security > Windows Update will issue a warning message regarding preview builds. Ignore it for now. It's a work in progress of adding new functionality but not fully implemented yet.
Language packs will be rolling out and are being published.
Announcing about the new build, Gabe Aul also informed about the new forum topic for Windows Insiders who are gamers. 'Gaming on Insider preview' went live in the forum.