Windows 10 for PCs and tablets is slated to be launched on July 29 and now we learn Windows 10 Mobile for Phone could follow this release. Windows 10 Mobile for Phone is likely to be released in late September. Neowin website hints that the tentative date of the launch is mentioned in a document that lists some of the product numbers and dates for Windows 10's launch into the reseller channel.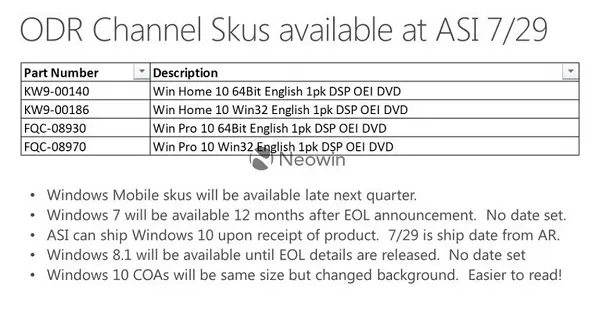 Windows 10 Mobile for Phone September launch
The document reveals, Microsoft is targeting the release of Windows 10 Mobile and Windows 10 Mobile Enterprise sometime "late this quarter", at least for OEMs and its partners. A slide posted from that presentation "Windows Mobile SKUs will be available late next quarter" reveals the company is targeting a launch at the end of September. However, there are also reports that during the webinar, a Microsoft spokesperson stated Windows 10 Mobile should launch sometime in October, "possibly as early as September".
The extra two months following the debut of Windows 10 is likely to offer Microsoft the time for optimizing the OS for mobile as well as build up a handful of universal apps that it can show at launch.
Current test builds of Windows 10 for phones are lagging behind their PC counterparts in terms of features and stability. The possible reason: Windows 8 was released before Windows Phone 8, so the latter simply has a late start. Also, Windows 10 for phones has to go through carrier testing. All this news does make sense as Microsoft's Joe Belfiore said recently that the Windows 10 launch will be followed by Windows 10 Mobile, Windows 10 for the Surface Hub, Windows 10 for the Xbox, and the HoloLens edition.